20 years
20 acts of kindness – the final count
Every year our teams choose a local charity to work with and raise money for. In 2022–2023, to celebrate our 20 years in business, we decided to do things a little differently. So instead of raising money for a single charity, we aimed to achieve 20 acts of kindness across the company. Here's how we did and who we helped.
2022
August
Our Chelmsford office helped out with Trust Links' afternoon tea by baking cakes including a delicious lemon drizzle, banana loaves and a spectacular Victoria sponge.
Trust Links was also Chelmsford's charity of the year.
October
Ben, our Operations Director, put on his trainers to run the London Marathon for Great Ormond Street Hospital. He finished in an impressive 4 hours 47 minutes and raised £3,300.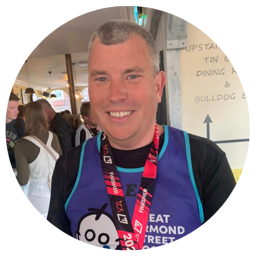 November
The cold weather brought with it a flurry of facial hair as our newest graduate consultants raised £150 by competing in Movember.
Paul, Director of our Ipswich office, volunteered to run a virtual classroom at the University of Suffolk. He helped students with all things job-related including CVs, applications, interviews, job searches, networking and lots more.
December
We really ramped up the pace in time for Christmas. 
We donated the money we'd have spent on sending out Christmas cards to each office's charity of the year.
Our bakers got busy in Cambridge and Chelmsford selling festive cakes and biscuits to raise money for Illuminate and Trust Links.
The Chelmsford office wrapped and delivered 50 children's Christmas presents to Trust Links for them to pass on to kids with mental health challenges.
Our Norwich office collected two crates' worth of food as well as a box of hot water bottles to donate to MAP.
The Ipswich office contributed to a hamper appeal and took part in Christmas jumper day to raise money for St Elizabeth Hospice.
Read more about our Christmas acts of kindness.
(Keeping score? We got to 11 acts of kindness at the end of 2022.)
2023
One of our biggest initiatives is running throughout 2023 – Best Employers Eastern Region. As part of this we partner with an amazing local charity to give them the chance to get in front of the brilliant local organisations that take part in the programme. We also donate any extra money we make to them as well. This year that's the East Anglian Air Ambulance (EAAA), who've also taken part in Best Employers themselves several times (read what Sarah Adkins, Director of People and Culture at EAAA, had to say about why the charity values the programme so much).
Throughout the year we also gave our team members the option to donate their £25 birthday gift from Pure to a charity of their choice.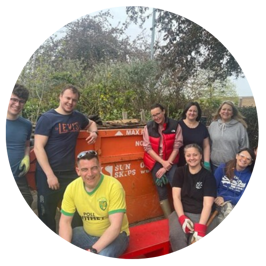 February
Mark, Director of our Cambridge office, spent some time with Illuminate talking about ways to avoid stress when interviewing for a new role (read his top tips).
March
Easter saw the Ipswich office collect and donate Easter eggs to Lighthouse Women's Aid.
April
Our Quality and Compliance Manager April and Senior Consultant James tackled the Lake District five-peak challenge. Together they raised over £2,000 for Evelina Children's Heart Organisation.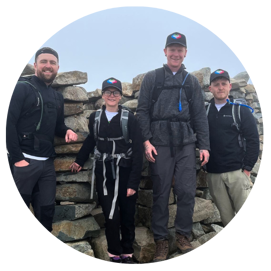 We also encouraged each of our offices to organise a charity team day, where they could spend some time making a real difference in their community.
Chelmsford's support for Trust Links continued with a day spent weeding their Growing Together Garden and laying a new path to make the site more accessible.
Cambridge got physical supporting Abbey People, removing decking and weeds, clearing out old sheds, painting the centre's food hub and filling two skips full of waste.
May
Lynn, Executive Director here at Pure, visited students at Culford Sixth Form to help prepare them for the world of work by answering questions about recruitment.
We also celebrated the amazing Sue Pateman for her warmth and professionalism. She's been temping with Pure for over 15 years in a mind-boggling 135 different admin and reception roles.
May was also National Walking Month, and the 15 to 23 was Mental Health Awareness week. We decided to combine the two and challenged our teams to get out and enjoy the fresh air while also racking up 600,000 steps in total. We smashed that target, hitting 676,274 (338 miles) across our four teams:
Norwich – 170,311 steps
Chelmsford – 80,928 steps
Ipswich – 154,339 steps
Cambridge – 270,696 steps.
We donated £1 for every 1,000 steps, which we split between our four charities of the year.
Going the extra mile
We enjoyed our acts of kindness so much that we didn't want to stop at 20. So act of kindness #21 saw the Ipswich team host a charity quiz night to raise money for the Suffolk Accident Rescue Service (SARS). Through ticket sales, raffle prizes and a silent auction on the night, they raised an impressive £1,600.
We also donated £5 for every person at Pure who filled in our Best Employers' engagement survey. This raised £305 which we've split between our four charities of the year.
Looking ahead
We still have a few spaces left on our Chelmsford programme – find out more. We also donate the fees from this programme to Home-Start, a charity helping helping families with young children through challenging times. So by signing up you'll not only be adding to your HR skills – you'll also be helping the local community.