20 years
Taking a day to support our charities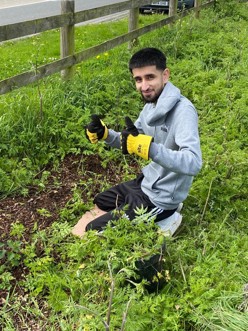 As we come to the end of our 20-years-of-Pure celebrations, we have a few things left on our 20 acts of kindness to-do list. Here's how our Chelmsford and Cambridge offices have been ticking them off.
Supporting Trust Links
Trust Links is South East Essex's local independent charity for mental health and wellbeing. They offer therapeutic gardening, recovery classes, social activities, employment training and more to people living with mental health conditions, unpaid carers and other community members.
On Monday 24 April, our Chelmsford team volunteered for the day with them at St Laurence Orchard in Southend on Sea. It's a historic site that Trust Links manages on behalf of Southend Borough Council, and they use the orchard for therapeutic gardening and recovery.
Our team got their green thumbs out and worked hard weeding and laying a new path. They were all  very proud to support the conservation of such a special place. Laura Turner, one of our Recruitment Consultants, summed it up: 'We all had great fun! And it was even better knowing we were giving back to our local community at the same time.'
Helping Abbey People
Abbey People is a community charity in the Abbey Ward of Cambridge, one of 14 wards of Cambridge City Council. It covers the central area of the city, including the historic Cambridge Abbey. The charity aims to improve the lives and wellbeing of Abbey Ward residents through community and environmental projects, improving access to education and employment, and by developing a culture of volunteering in the community.
On Thursday 27 April, our Cambridge team spent the day at Abbey People's community food hub on Newmarket Road. They worked hard too, clearing the overgrown garden, removing decking, emptying sheds and sprucing up the building with a coat of paint.
The project was led by Jo Bromwich, our Resourcing Team Manager, who also volunteers for the charity in her spare time. She said: 'I'm so proud of everybody and how much we achieved. And I'm hugely grateful for the way everyone's supported Abbey People. Everything we did is going to make such a difference in our community.'
Continuing to give back
We'd like to say a big thanks to our teams for giving up their time for such good causes. We're not stopping there though. Our Norwich and Ipswich teams will soon be following suit by spending a day volunteering for charity too.
If you'd like to keep up with our charity work, follow #PureCharity on Facebook, LinkedIn, Twitter or Instagram. And if you're feeling inspired to donate your time or cash, go to Trust Links or Abbey People's websites to find out how to do just that.