Charity
Doing Christmas differently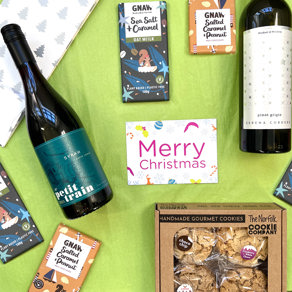 Supporting charities and doing the right thing in our local communities is more important than ever. In fact, it's something that's really close to our hearts at Pure. Here are some of the ways we're helping out this Christmas.
Fundraising is something we do all year round. But we like to take it to another level at Christmas and give even more to worthy causes. As we continue to celebrate 20 years of Pure, we've chosen to support mental health charities through '20 acts of kindness', and other activities.
Donations for Christmas ecards
Instead of sending Christmas cards this year, each of our offices donated £50 to the following local charities.
Doing things differently for our clients and workers
We always like to thank our loyal clients, the fantastic organisations we work with and our fabulous team of temp workers with some Christmas treats. This year we've chosen a selection from local and sustainable sources.
So our consultants are out and about delivering gifts from Gnaw Chocolate, The Norfolk Cookie Company and Naked Wines, all in beautifully kitsch eco-friendly bags from The Paper Bag Co and using Peace with the Wild recycled twine.
Charities that are close to our hearts
Alongside these donations, each of our offices have made contributions to local charities they're particularly passionate about.
Ipswich supports Love Ipswich
Our Ipswich team recently contributed various items to Love Ipswich's Christmas hamper appeal. Love Ipswich is a community initiative run by the Proclaimers Church in Norwich, Ipswich and Bratislava. They help the vulnerable and those in need in local communities in practical ways. Our team also wore their Christmas jumpers for St Elizabeth Hospice.
Festive bakes in Chelmsford
On Tuesday 29 November our Chelmsford team hosted a festive cake stall. They donated the money they raised to Trust Links. They also wrapped and delivered 50 children's presents to Trust Links supporting children with mental health challenges.
Food drive in Norfolk
Our Norfolk team are supporting MAP with a food drive. They donated two crates of food and a box of hot water bottles to young people who are struggling to afford the essentials.
Festive bakes in Cambridge
Our Cambridge office raised £150 with a November bake-off for Illuminate, and another £140 in December.
To you, your families and your friends
We'd like to wish everyone we work with a very merry Christmas and a happy new year. We're really looking forward to working with you all in 2023.