News
We've won UK Employer of the Year Gold from Investors in People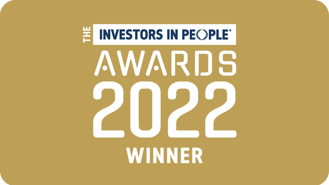 We're thrilled to announce that we've been awarded the Investors in People's (IIP) UK Employer of the Year Gold award (50–249 employees).
Why did we win?
This award recognises our employee engagement strategy as truly special. It's something that's very close to our hearts – our leadership team have worked hard on it to make sure that, as the business grows, we remain true to our values.
Our approach helps us focus on the well-being of our people, how we hire and retain them, how we communicate, and our reward and recognition structure. And we're so pleased to be recognised for it – especially as we celebrate 20 years of Pure in 2022.
What the award means to us
Caroline Batchelor, Director, said: 'I'm so proud that we've won an IIP Gold award. Our people are so important to us. Without them, we wouldn't be able to do what we do. We work hard to maintain and develop our positive culture. I just want to say thank you to everyone at Pure. This is all about you – you're what makes Pure a great place to work!'
Ben Farrow, Operations Director, said:
'Creating an engaged culture is an ongoing process and continually evolves. Achieving our IIP Gold accreditation earlier this year was an opportunity to hear how we're doing. And winning this award is the cherry on top. We'll continue to focus on sharing ideas, giving everyone a voice and building on our values to make sure Pure remains a great place to work. This award recognises what we've achieved so far and our commitment to investing in our people.'
Executive Director Lynn Walters said:
'On behalf of the whole team, I'm so proud to have won this award. We have a brilliant team of people who care passionately about doing the right thing for jobseekers, clients and each other, as well as the communities we're part of. At Pure, our culture is the top priority – it guides how we work every day. And we're fortunate to work with some fantastic organisations across the eastern region who we share experiences with, something which helps keep us fresh and continually evolving. We're looking forward to celebrating this award with the whole team.'
CEO, Ian Walters summed things up:
'As a team, we've always valued helping people above recognition. But I still feel really proud and honoured that Pure has won this prestigious IIP award.'
Collecting our award
David, Caroline and Ben went to collect our trophy at the awards evening in London on Tuesday 15 November. It was great to see so many other inspirational organisations at the event, all of which are doing great things to #MakeWorkBetter. But only a few get to take home one of the sought-after trophies. And this year we were very proud to be one of them.
'It was a fab night and a brilliant result for us all,' said David. 'I'm so proud of our organisation, our culture and, most importantly, all our people.'
Our thanks
This award and our gold accreditation recognises our commitment to creating a great workplace. We'd like to thank Investors in People and the judges who made it happen. But most importantly, we'd like to thank our people, who make Pure such a great place to work.
Want to work for an award-winning organisation?
Find out more about what it's like to work with us.