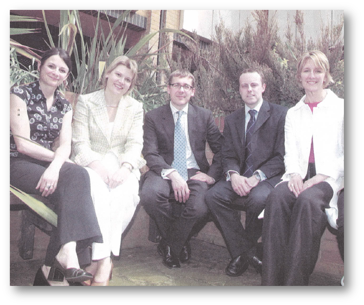 In 2002 Ian, Gill and Caroline started a recruitment consultancy with a difference, from a tiny room in Cambridge. Despite only having a rudimentary IT system, dial-up internet and one fax machine, they had a clear mission – to help job seekers find their perfect positions, build lasting relationships and become the go-to recruiter for businesses in the east of England. They called it Pure.
Not long after this, they were joined by Lynn and David. Fast forward 20 years and we're now the leading recruitment specialist in the eastern region. And our Pure family has grown to nearly 80 people across four offices.
Ian says, '20 years ago we set out to build long-lasting valued relationships, as we believed that was the best thing we could do for our clients and for job seekers. And that's as true today as it was then.' David agrees, 'I'm proud of how we've never lost sight of what makes us who we are. This business was founded on a desire to build long-term relationships, go the extra mile and serve our customers the best we can. We did it back then and we're still doing it now.'
Why 'Pure'?
Over lunch one day, Ian, Gill and Lynn were talking about possible names for the business. Lynn remembers: 'I was drinking a refreshing glass of water and it just summed up what we were trying to achieve. Water's transparent, pure and nothing complicated – just what represented our vision. And that's how we agreed on the name "Pure".'
Sharing our stories
To celebrate 20 years of Pure, we want to share our stories and memories with you, and give you some sneak peeks behind the scenes into what really makes us tick. So over the next few days, weeks and months, we'll be publishing lots of articles and blogs celebrating all things Pure.
Pure in numbers
We've helped find jobs for over 28,000 people.
We've worked with nearly 3,000 clients promoting more than 53,000 jobs.
We've raised over £170,000 for charity.
We've seen 12 marriages and around 45 babies born in our team.
A word from our clients and job seekers
Our clients
'It's been a pleasure working with the Pure team. We were looking for a top-level candidate for a senior position of critical importance to our business, and I can't speak highly enough about Pure's approach. Everyone worked with precision, great communication and a sense of real collaboration.'
Jay Wright, Virgin Wine's CEO.
'We chose Pure for two reasons. First, because of their wide network of job seekers, and secondly because of their comprehensive knowledge of the local market – much more so than the competition. From the first meeting, we felt very supported and we went on to appoint two very strong individuals, so we're delighted with the result.'
Stuart Black, RGE Services' Executive Chairman.
'We loved the fact that Pure's a regional business. It felt very much like an agency that looked after its own staff – so we knew we'd be looked after too. There was also no hard sell, something that was really important to us.'
Jo Mothersole, Personnel and Recruitment Coordinator at Thompson & Morgan.
Successful applicants
'The communication was very good with quick responses. Everything was really clear, and I always knew what was going on.'
Mason Caves, who joined Tilda Ltd.
'Friendly staff, always at the end of the phone to answer queries, and give advice and help when needed.'
Michelle Dalle, who joined Drax Power Ltd.
'All the people at Pure are always a pleasure to work with – they're friendly, helpful, and do a great job at balancing the needs of the client and the job seeker.'
Ben Staples, who joined Birketts LLP.
Have you got a Pure story you'd like to share?
If you've got a fond memory of Pure, whether that's as a client, job seeker or business partner, we'd love to hear from you.