News
Pure rewards hard work and progression with five staff promotions across the region
Pure, the professional recruitment company for the East of England, has promoted five team members at its offices across the region in recognition of their hard work and continued progression.
The promotions were announced at Pure's company away day to mark the organisation's financial year-end and comprise three promotions of team members based in the Cambridge office, one at the Chelmsford office and one at the Ipswich office.
At the Cambridge office, Gemma Pluck has been promoted to Managing Consultant for Accountancy and Finance, and Miranda Quazi and Jenny Barrett have both been promoted to Senior Consultants.
Gemma Pluck, who has progressed from starting as a Recruitment Resourcer in 2014, said: "Being promoted to Managing Consultant means the world to me. There are lots of inspirational consultants and managers here at Pure who do so much in their day job, not just in recruitment, so it is a great place to learn and progress."
Miranda, who initially joined Pure as an Accounts Administrator before moving over to the recruitment team and working her way up to Senior Consultant, now specialises in HR recruitment. She said: "The promotion means a lot to me. I have been at Pure for seven years now and I feel that this is my biggest achievement in my time here so far."
Jenny, who started with Pure in 2018 and focusses on temporary and interim professional placements, added: "Promotion for me is a recognition of my hard work and progress over the last year. It is a pat on the back which says well done, you've earned this, and is reflective of Pure's extremely supportive and positive culture."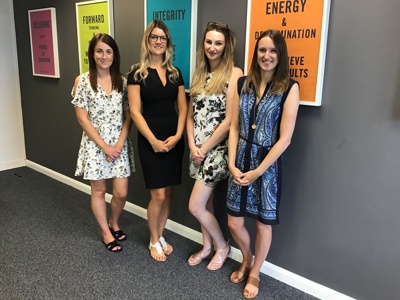 At Pure's Chelmsford office, Heather Saxby has been promoted from Recruitment Resourcer to Recruitment Consultant. Her career journey at Pure began by approaching them as a candidate looking for work. Heather explained: "I first stepped into Pure's doors as a candidate who had just been made redundant and my confidence was at an all-time low. Luckily, Pure saw something in me and I had the skills the team were looking for at the time, and before I knew it, I was offered the position of Recruitment Resourcer. Now I am a consultant specialising in HR recruitment and I couldn't be happier."
Based at Pure's Ipswich office, but working across all four offices in the region, Lucy Plumb has also been promoted to Senior Executive Assistant. Lucy joined Pure Executive, which specialises in Board level appointments, in 2014 to support the team with research and administration as well as helping to organise Pure's leadership development initiatives and events including the Women's Leadership Programme and Board Ready Talent Scheme.
Lucy said: "Throughout my five years at Pure, I have been lucky enough to have the opportunity to work across the business and to really make this role my own. Even though we are based across four different offices, the business still has a real team spirit and family feel, with Director involvement on a daily basis. It is a genuinely fantastic and supportive place to work and for me, this promotion is recognition of the hard work that I have put in and shows the value I have been able to add to the business."
If you're interested in finding out what it's like to work for Pure, find out more by visiting workforus.prs.uk.com

Written by
Leah Crabtree
Leah joined Pure in August 2016 to provide resourcing and administration report to the Ipswich Office. Currently working as a Digital Marketing Coordinator, she works alongside Pures Marketing manager to provide full digital support across our four offices.