News
Pure crowns Cambridge Design Partnership 'Employer of the Year'
We were delighted to present Cambridge Design Partnership with the Pure Award for Employer of the Year at the 26th annual Cambridge News & Media Business Excellence Awards on Thursday 21 March.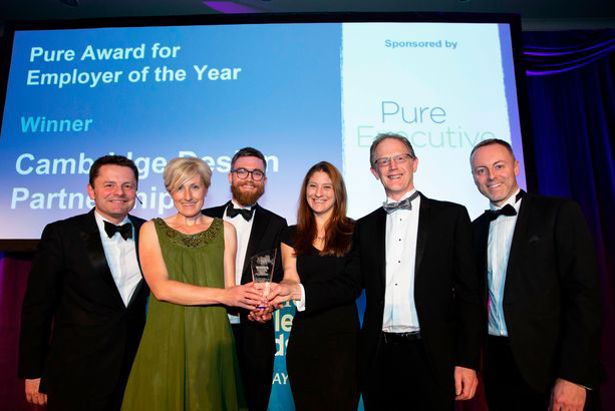 Pure sponsors the Employer of the Year award as part of its ongoing purpose of supporting the fantastic employers and places to work in our region. At the heart of every business is its people and the Best Employer award celebrates the organisation which brings this ethos to life. It recognises the company that has successfully engaged its employees by inspiring, motivating, developing and rewarding them.
Cambridge Design Partnership was one of three companies shortlisted in the 2019 Employer of the Year category, alongside creative and technology agency Omobono and Pennington Manches LLP. David Culley, Director at Pure, presented the technology and product design organisation with the well-deserved accolade at the gala dinner.
David said: "This year we received a record number of nominations for the Best Employer category, from youthful, pre-revenue businesses to long-established institutions. In judging the entries we were looking for employers who genuinely value their staff and recognise the impact they have on the success of the business. In my experience, the companies with a clearly defined organisational culture, and which prioritise people over profit, deliver the highest profits over a sustained period of time. All of us at Pure send our congratulations to Cambridge Design Partnership. This accolade shows that they have been externally recognised as an employer of choice."
Cambridge Design Partnership's CEO Mike Cane said: "As an employee-owned company, our clients' success and the well-being of our staff are at the centre of our business approach. The fact that we all work for each other collaboratively supports our multi-disciplinary team approach to innovation."
The annual Business Excellence Awards featured a wide range of categories for organisations of all sizes and industries. Other awards also presented on the night included Business of the Year, Business Person of the Year and the High Growth Award.
David Culley added: "We would like to congratulate all the winners and finalists. It's a huge privilege for us to continue supporting these awards and to celebrate the incredible business talent and employers in our local area."
Previous winners of the Pure-sponsored Employer of the Year Award include Genie Ventures, Bidwells, Cambscuisine, Mills and Reeve and Cambridge Building Society.
Read for details of all the Cambridge News Business Excellence Awards 2019.