News
Proud to sponsor the Best Employer category at Suffolk Business Awards 2019
Our sponsored category of the Best Employer Award will honour the business which can genuinely attribute its success and growth to putting people at the heart of everything it does. We are always particularly thrilled to be able to support this particular award. It celebrates the employers committed to creating engaging, inspiring and inclusive workplaces which bring out the best in their people. As a specialist recruitment agency, we know just how important employee engagement and workplace culture is when it comes to being able to recruit and retain the high calibre employees needed to achieve business growth, productivity and innovation.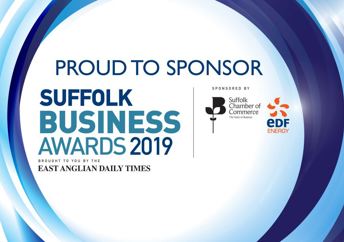 This year we are especially delighted to see how the importance of recognising people as a precious business resource and of creating staff-friendly workplaces is a core topic throughout all of the Awards. A recurring theme for the criteria required across the categories is evidence in best practice when it comes to HR, recruitment, employee engagement and development practices. This includes the overall Business of the Year Award, which will be chosen from the finalists across all the award categories.
The Best Employer category is open to organisations with 30 or more members of staff and all entrants will be required to also complete the Best Employers Eastern Region employee survey, providing real-time data on employee engagement levels within the organisation. We will be looking for businesses to demonstrate significant progress in their people and talent strategy through engagement, learning and development, retention and employer brand. In addition, we are looking for how the vision, values and purpose are embedded, reward and recognition strategies are driving performance, positive and inclusive cultures are being created and details of any approaches to employee wellbeing and community support.
Jodie Woodrow, Senior Manager at Pure and one of the judges, said: "These awards are the opportunity for us to come together as a business community to celebrate and showcase so many vibrant, inspiring and progressive organisations in the region. With such a thriving business community there are numerous local success stories. Through the judging process, we always come across undiscovered gems that have put staff engagement at the very heart of their values and culture. Ultimately the winner should be the business that everyone wants to be part of! I'm really looking forward to reading about and meeting the entrants and to hearing more about what they are doing to inspire and engage their people."
The awards evening, organised by the East Anglian Daily Times and sponsored by Suffolk Chamber of Commerce and EDF Energy, will be held on Thursday 4 July at Milsoms Kesgrave Hall and will be hosted by comedian Tom Allen. These awards are free to enter via the Suffolk Business Awards website and the closing date for entries is Friday 22 March.