Charity
Shining a light on the interview process with Illuminate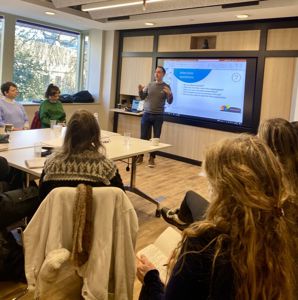 Illuminate is a not-for-profit organisation specialising in mental-health coaching and training to help people make positive changes. It's our Cambridge office's charity of the year, and we're working with them as part of our 20 acts of kindness. I recently went to an Illuminate workshop designed to help job seekers be more confident and prepared when it comes to interviews. There were lots of great tips and tricks, which I thought I'd share with you here.
What to include on your CV
Here's a basic structure for your CV.
profile – a short statement about your strongest skills and the things that make you perfect for the position you're applying for
your job history – the companies you've worked for, and when
IT skills like Excel, PowerPoint, etc.
education
interests and hobbies – but only if they're relevant to the role (for example, I include photography on mine because it's a useful skill to have in marketing) .
Have a look at this article for more detailed information on what to include in your CV.
Keep the nerves at bay
A lot of anxiety around job interviews comes from not knowing what to expect. That's where preparation comes in – it's the best defence when it comes to beating the nerves.
Get online
Make sure you've checked out the company's website thoroughly. Get familiar with what they do, how big they are, how long they've been going, and so on. You might also want to have a look at their news page if they have one – just so you can see what they've been up to recently. You don't need to memorise the entire board of directors or the 'About us' page, but make sure you have a good idea of who they are and what they do.
Know who's interviewing you
When the company or recruitment agency set up your interview, they should give you the name or names of the people you'll be speaking to. Have a look at the company website, or LinkedIn to find out a bit more about them. Even just knowing what they look like can make you feel more confident.
Make sure you know where you're going
If you're having a face-to-face interview, plan your journey beforehand. You might even want to do a dummy run to check how long it takes, find out exactly where it is, where you can park, etc. Whatever you decide, make sure you allow lots of extra time just in case – you don't want to be rushing or worse, late, even if it isn't your fault.
Think about what's making you nervous
If there are specific things you're worried about, try to identify them individually, then challenge them. For example, you can challenge 'I don't have enough experience' with 'I can use the experience I got doing XXX'. Or if there's a particular question you're dreading – e.g. if you have a gap in your CV – don't just hope it doesn't come up. Prepare an honest (but positive) answer.
And finally, remember that the employer wouldn't have asked you for an interview if they didn't think you could do the job.
Frequently asked questions
Of course, all interviews are different. But there are a few types of questions which come up time and again. So it's good to be prepared for these. Here are some that you should have an answer ready for:
What do you know about our organisation?
What are your strengths/weaknesses?
What experience do you bring to the job?
Why do you want to work for us?
These types of questions are called competency-based questions. Have a look at this article to find out more about how to answer those.
Questions you should ask
Questions you ask are just as important as the ones your interviewer asks you. You can use them to show you're interested in the company, and that you've done your research beforehand. Obviously what you ask is likely to depend on your circumstances and the job you're applying for, but here are a few basic ones you could use as a starting point.
What makes your business a success?
How do you see the successful person spending most of their time?
How would you describe the culture of the company?
What qualities would the ideal candidate have?
Is there anything more you'd like to know about me?
What are the next steps after this interview?
Need some help with your job search?
There's lots of advice and information on our website, on everything from writing the perfect CV to how to avoid job-change anxiety. And if you'd like to talk to one of our consultants, feel free to get in touch.