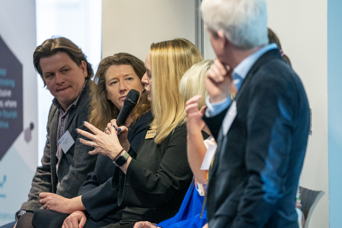 On 28 March we officially launched this year's Best Employers Eastern Region with a conference at Newmarket Racecourse. We had a great turnout with over 170 senior leaders and HR professionals coming together to explore this year's theme – how organisations can make the most of their Best Employers' engagement survey and use the results to create inclusive cultures. 
What's Best Employers?
It's the go-to programme when it comes to understanding the employee experience. Based around an employee engagement survey, Best Employers helps organisations in Cambridgeshire, Essex, Norfolk and Suffolk develop forward-thinking and inclusive workplaces. Workplaces where people can flourish and thrive, and that drive productivity and economic growth across the eastern region.
Best Employers is a collaboration between Pure and eras, who create the survey for free, as well as longstanding sponsors, Birketts. You can find out more on the Best Employers' website.
What happened at the conference?
We had lots of speakers, both from Pure and companies who've taken part in Best Employers, who discussed the programme in detail. This including talking about their own experiences of the survey, and how they're using it to create more inclusive cultures at their workplaces.
Here's a brief snapshot of each of our guest speakers.
Lynn Walters, Executive Director at Pure
Lynn opened the conference by talking about how the coronavirus pandemic is the biggest disruptor of work since the industrial revolution, and that it'll take years to firmly establish new working patterns. She also offered some advice for success around not being afraid to experiment and try new things, find out about other organisations' approaches and really listen to your employees. And how there's no better way to do that than by taking part in Best Employers 2023.
A Best Employers' story – Alex Triplow, Head of HR and Darren Williams, Director, both from Holkham Hall and Estate
Holkham have been taking part in Best Employers for several years now. Alex told us how their 2021 survey showed big improvements since 2018, highlighting positive comments from employees about the improvements the company's made based on previous surveys' insights. She also told us how Best Employers helps them listen to and act on what their people tell them. 
Darren talked to us about some of the challenges – and solutions – Best Employers has brought. These included finding new ways to encourage people to fill in the survey, keeping the momentum going and resisting the urge to get complacent when results improved. He finished by talking about how Best Employers has changed Holkham as a whole, helping them move from a traditional hierarchical organisation to one that puts people at the heart of the business. They're now reaping the rewards of empowering their people to grow, take on more responsibility and become even more engaged. And much of that is down to Best Employers.
Bringing the survey to life – George Sik from eras and Paul Sheldrake from Pure
As the designers of the survey, George talked to us about some of the changes eras have made for 2023. The most important one is a new section asking employees to comment on how they feel about their organisation's commitment to environment, social and governance.
Paul then talked about how high survey participation rates are important because they give you much more insight into your organisation. A good rule of thumb is that anything over 70% is good. He then told us some of the things that organisations with higher response rates share – for example, their staff are often desk or computer-based, and can fill in the survey during working hours. So organisations need to think and act differently to help employees who aren't desk or computer-based complete the survey. One idea was to set up a room with computer access and make time for people to use it to fill in the survey.
A Best Employers' story – Matthew Jones, Chief Executive and Sarah Atkins, Director of People and Culture at the East Anglian Air Ambulance
Best Employers is a not-for-profit programme, and in 2023 we're donating any extra funds to the East Anglian Air Ambulance. They're a life-saving charity that delivers doctors and critical-care paramedics by air or car to seriously ill or injured people in our region. The charity has also taken part in Best Employers themselves, which Sarah said they love because they can include all their workforce, and benchmark results across the region. She also said that being able to track progress from previous years is a real plus, as is the networking and support that comes with it.
Matthew then told us about some of the changes the charity has brought in after taking part in Best Employers. This includes creating a management forum to improve accountability and communication, introducing a pay-and-reward system and bringing in volunteering leave for staff to support other charities. He also mentioned how Best Employers has raised their profile as a good employer, which is transforming both recruitment and retention.
Observations on leadership and adopting an environment, social and governance (ESG) approach – Bridget McIntyre, Chair of Notcutts, founder of Alitus and The Blossom Charity, former Non-Executive Director at Adnams and Jarrold department store, and CEO of RSA Insurance
Bridget started by talking about her experiences of leadership in very different organisations and how it's shown her the importance of engaged employees. She pointed out that companies with really engaged employees could have three people doing work that takes four elsewhere.
She also spoke about how implementing an ESG strategy can transform an organisation by creating sustainable change. But this can only work if it's accompanied by self-awareness, leadership and communication skills to embed the principles.
It's not too late to sign up to Best Employers 2023
The launch conference may be over, but that doesn't mean you've missed your chance to join this year's programme. Head to the website to find out how to take part.