News
Making the most of a tough year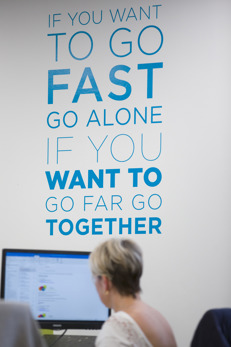 June marks the end of our financial year here at Pure – and what a year it's been. Like all businesses, the coronavirus pandemic has brought us our fair share of challenges. But we've been overwhelmed by the support of our team, clients, candidates and business partners. And if this extraordinary period has taught us anything it's that with teamwork and collaboration we can weather any storm. Here are just some of our highlights from the past 12 months.
Pure in numbers
Over the past year, we've found 1,258 people new positions and helped more than 450 clients recruit new team members. We're really proud of these numbers, especially considering the uncertainty the pandemic has brought to the job market. We're also proud of how we've embraced the challenges of adapting the recruitment process to cope with this, including carrying out virtual interviews, recruiting and onboarding.
Promoting within Pure
Due to their incredible commitment and achievements, and the way they've been living the Pure values, we're delighted to announce that we've promoted the following people:
Mark Wishart is now a Senior Managing Consultant
Fiona Cooper, Ruben Davis, Caroline Meeson and Jenny Saban are now all Managing Consultants
Emily Colby and Laurie Smith are now Senior Recruitment Consultants.
Here's what their colleagues had to say about them.
Mark Wishart – by David Culley, Director at our Cambridge office
'Mark has all the traits of a great consultant. He's competitive, resilient and a real grafter – he always does his best and never quits. Driven by quality, he gives as much time as he can to support his clients and candidates and has shown a keen interest in supporting and mentoring less experienced consultants.'
Fiona Cooper – by Paul Sheldrake, Business Director at our Ipswich office
'Fiona is one of the most diligent and hardworking consultants I've ever worked with. She's always positive, is a fantastic team player, and is universally liked and respected by candidates, clients and her colleagues. She's also happy to take on extra responsibilities, including being the mental health first aider for our Ipswich office.
Ruben Davis – by Scott Woodrow, Director
'Ruben is our first experienced tech hire. And he's been absolutely key in helping us establish and develop our new technology, marketing and digital areas. All in all, he's thoroughly deserving of this promotion.'
Caroline Meeson – by Tom Earl, Director at our Norwich office
'Caroline joined Pure in 2009, and it's fair to say she's now part of our DNA. She's worked across three offices taking on many different tasks which shows her versatility and flexibility. Her hard work, dedication and passion for delivering on behalf of her customers is something she should be really proud of. She's also undertaken several projects for us and is a driving force behind business development for the office and, in particular, for the finance team.'
Jenny Saban – by Scott Woodrow, Director
'Jenny's tenacious and focused and has been key in helping us increase our technology, marketing and digital revenues. She's also helped us win and deliver important accounts in Cambridge.'
Emily Colby – by Tom Earl, Director at our Norwich office
'Emily made an immediate impact at Pure with her positive approach. She always goes the extra mile, and her clients and candidates have nothing but positive comments about her levels of service and genuine desire to help. She's a true team player and every day it's clear how much she loves recruitment. Her energy and passion is infectious, and she lives and breathes the Pure values.'
Laurie Smith – by Paul Sheldrake, Business Director at our Ipswich office
'Since she joined us in early 2020, Laurie's been exceptional. The pandemic's meant she's spent most of her career with us working remotely, and she's shown tremendous resilience and tenacity during lockdown.'
Recognising excellence
Every year we hold the Pure Awards to celebrate members of our team who've gone above and beyond at work. The awards are based on our Pure values ('delivers', 'teamwork', 'supports', 'quality', 'innovates' and 'rewards'), and people are nominated by their colleagues. Here are this year's winners alongside the value they were nominated for, and the reasons for their nomination.
Award: Pure delivers ('Energy and determination to achieve best results')
Winner: Lucy Plumb
'Lucy offers support whenever you need her – whether you need help with CV formatting, getting a tricky job posted in the right place or flagging up new candidates, she never seems too busy to help.'
Award: Pure teamwork ('Believing in the power of teamwork')
Winner: Katherine Bell
'Kath is always there to help with anything – she's genuinely the nicest person. No matter how busy she is or how much of a workload she has, she'll be there to help you out, make suggestions and generally support you however and whenever she can.'
Award: Pure supports ('Committed to helping people achieve')
Winner: Annette Wyld
'Annette is Pure's unsung hero, along with all her finance team. She's always supportive and helpful, and ready to go the extra mile.'
Award: Pure quality ('Integrity and trust at its core')
Winner: Becky Wilson
'Becky's being nominated for her teamwork, collaborative and supportive approach, tenacity and determination. And also for the business she drives for the wider team, and the depth and quality of her business and candidate relationships.'
Award: Pure innovates ('Forward thinking and innovative with an eye to the future')
Winner: Nadia Mullins-Hills
'Nadia goes the extra mile in everything she does. She's driven by quality and integrity, and she's been an absolute star over the last 15 months."
Adding to our team
As well as recognising our current team, increasing demand in recruitment across our region means we're also adding some new faces to the Pure family. We're delighted to welcome:
Victoria Lumley, Senior Recruitment Consultant for accountancy roles, based in Chelmsford
Julie Ottloangui, Recruitment Consultant for professional office roles, based in Cambridge
Harry Severn, Recruitment Consultant for software roles across the region
Karolina Solarz, Recruitment Consultant for marketing roles, based in Ipswich
Giles Dawson, Recruitment Consultant for accountancy roles, based in Norwich
Sophie Francis, Recruitment Resourcer based in Cambridge
Kai Macdonald, Marketing Assistant
Ella Bell, Business Administrator.
We're really proud of the hard work and dedication our people have shown over the past year, in spite of the personal and professional challenges we've all faced. Here's to an even more happy and productive 2021 to 2022 for all our people, clients and candidates.