Stories
Vetting people for roles at Rossdales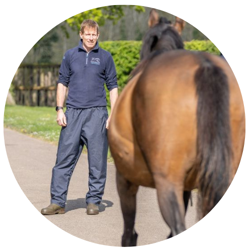 Rossdales Veterinary Surgeons is the largest equine practice in Europe. They provide world-class services, facilities and technology to all sectors of the equine market from their bases in Newmarket, Exning, Hertfordshire and Lambourn. They have a team of 60 veterinary surgeons and 120 support staff.
The challenge
Rossdales needed to recruit an HR Advisor to help with the organisation's growing requirements. The ideal candidate would be happy to work across their four sites, and have the skills and experience to support their HR function, covering both admin and operational duties. They also needed someone who'd be a good cultural fit for the organisation. Due to the fact that there were lots more jobs available on the market than job seekers, they were struggling to find the right person.
Michelle Davies, HR Administrator at Rossdales, had had a recommendation for Pure from a colleague. She decided to come to us with the hope that we'd be able to use our knowledge of the recruitment market to get her access to candidates she couldn't find on her own. 'We'd already tried to recruit for the position ourselves, but we didn't have any luck,' Michelle tells us. 'And time wasn't on our side.'
The solution
Rossdales hadn't used a recruitment agent before. They were particularly pleased with the fact that we took the time to understand their business and the type of person they were looking for, and that they only had one point of contact to deal with. That contact was Marsha Gordon, Senior Recruitment Consultant, who headed up the search, arranging a visit to Rossdales to see how they function first hand, and get a sense of the culture and environment. She quickly worked out that cultural fit was top of the wishlist for Rossdales.
How did Pure make a difference?
We helped Rossdales negotiate a recruitment market that favours job seekers. We saved them valuable time by taking the admin off their hands and doing the legwork for them. 'The only frustrating part was deciding which person to offer the role to!' says Michelle.
Luckily Marsha was on hand to help her decide who would be the better cultural fit. And it wasn't long before they were ready to offer Jayne Warner the role. 'Had a good feel for the environment, and with my previous experience felt that Rossdales would be a perfect fit for me,' she tells us. 'I'm so glad they agreed!'
Need some help with your recruitment?
If you need help in finding the right people for your team, please get in touch. We'll be happy to help.