Opinion
The power of recruiter's feedback
When you're interviewing lots of people for a job, it can be tempting to send out a simple 'thanks but no thanks' to unsuccessful candidates, and just leave it at that. But not giving people feedback after interviews could actually be doing them a real disservice – and even damaging your organisation's reputation. In this article we're going to look at the difference good interview feedback can make to both candidates and recruiters.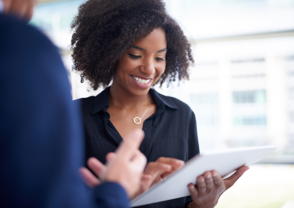 There can't be many of us who haven't missed out on a job after going to an interview. So we all know how tough rejection can be, especially if you don't know why you didn't get a position.
If you now find yourself on the other side of the table, it can be easy to forget that though. Lots of recruiters don't bother to send unsuccessful candidates feedback on how they performed in their interviews. In fact, according to a survey by student and graduate careers app Debut, four out of five people asked didn't get any feedback after going to a face-to-face interview.
Why interviewees deserve feedback
Mary Jackson, writing in HR Magazine, sums up why recruiters should be giving out feedback: 'Feedback is powerful. Anyone who takes the time to attend an interview is entitled to it.'
This is especially true today when employers often expect prospective employees to jump through hoops during recruitment – like long application forms, assessment centres (group interviews involving tests and interviews often lasting a day or more), written exercises, psychometric testing… the list goes on.
People also spend time preparing for interviews (which can be anywhere between half an hour and the best part of a day), and money on things like new clothes and travel. They've probably used their holiday allowance to take time off from their current job as well, or unpaid leave.  
When you add all this up, it's clear that those who make the effort to come to an interview deserve some feedback if they don't make the cut.
It's not just about the time, money and effort they've put in either – jobseekers who go to countless interviews and never get any feedback can struggle to improve and develop their skills. So your notes on how they did really could be the difference between them being ready (or not) when another opportunity comes up.
It's not all selfless
Giving feedback doesn't only benefit people looking for work. It can reflect well on your organisation as a whole too.
In our closely connected world, word of mouth – whether that's in real life or online – is important. Prospective employees have lots of places to vent their feelings if they feel they've been badly treated during a recruitment process (like LinkedIn, Google reviews and Glassdoor, to name a few). Get yourself a reputation as a bad recruiter who doesn't respect the people you interview, and you're going to struggle to attract the best candidates. In fact, according to the Human Capital Institute, job seekers are four times more likely to consider a company for a future job when they get constructive feedback. Do it well and you could potentially turn an unsuccessful candidate into an enthusiastic ambassador for your business – even though they don't actually work for you.
As an employer, you need to look at the bigger picture too. If all recruiters give constructive feedback, it's going to start having a hugely positive impact on the quality of people looking for work in the future. And that will cut the time it takes to find the right candidates, ultimately leading to a stronger UK workforce.
Five tips for constructive feedback
Tip #1
Collate your feedback as soon as you can after the interview. It can be hard to remember who said what if you delay, especially if you're interviewing a lot of people.
Tip #2
It's probably worth checking with people that they actually want the feedback before you do it – you don't want to waste your time telling them something they don't want to hear. Do it over the phone if you can as well.
Tip #3
Be honest, but kind. Explain why someone isn't the right fit for your company, or talk about areas where they could improve. Don't compare them with other people though.
It should go without saying, but keep your feedback related to the role, and always be professional.
Tip #4
Make sure your feedback is helpful and actionable – give specific examples and make suggestions for things they could do differently.
For example, you could say something like 'You didn't have quite the level of experience we thought from your CV – we were under the impression you'd worked on bigger projects'. This gives the person something to work on.
Tip #5
Don't forget to be positive – tell people what they did well and praise their strengths. For example, 'Your knowledge of our industry as a whole was excellent, as were your communication skills'.
(You might also want to have a look at this article about giving and getting feedback from HR consultant Ros Stephens.)
It's a two-way street
Feedback shouldn't just go one way. Asking interviewees for their thoughts and feelings about the role, your recruitment processes and your organisation as a whole can be really valuable.
It'll also give you a better understanding of the types of people who are applying for work with you, which can be vital if you're struggling to fill positions.
Ready to reboot your recruitment process?
If you need help with any part of recruitment – whether that's giving feedback, finding the right people or streamlining your interviews – we can help. Get in touch to find out more.