Stories
Making a match – pairing people with organisations that share their values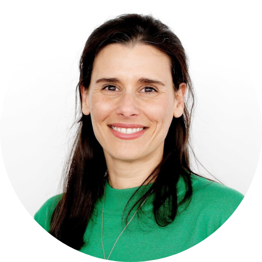 Michelle Zappala-Wood was looking to work for a Cambridge-based organisation with a clear mission and a culture that aligned with her own values. Pure helped her do just that.
The challenge
For Michelle, any potential new employer's mission and culture were important. She wanted to find a people and culture job that made her feel like she was making a difference, while still giving her opportunities to achieve her career goals. She'd already been in contact with Pure and Caroline Batchelor, one of our Directors, after a recommendation from a friend ('she said Pure were the best in Cambridge'). Although she'd got to the final stage of interviews for a couple of positions, she hadn't yet found the right match.
'Michelle's passion for building diverse and inclusive cultures through HR was immediately clear to me,' Caroline says. 'I knew it was important to find a role that would play to those strengths at a company with a well-articulated mission.' 
The solution
One of Caroline's clients, Cambridge Enterprise, was looking for a new Head of People & Culture. Part of the University of Cambridge – and a Best Employers' platinum-accredited organisation – the organisation has a clear mission to take academic research to market for the benefit of society and the economy. Training, rewarding and recognising their employees is very important to them, as is giving them clear career frameworks and development plans. They're also championing neurodiversity and working to become fully inclusive.
Cambridge Enterprise's previous Head of HR, Ruth Queen, was someone we knew very well, having worked with her for several years. So when she decided it was time for pastures new, she came to us for help.
'As soon as I saw Michelle's details I knew she'd be perfect for the role,' Caroline says. 'She had exactly the attitude, mind-set and experience they were looking for. I was convinced Cambridge Enterprise's mission, culture and values would sit well with her own too.' And as a Cambridge alum herself, Michelle couldn't really have been a better fit.
We're pleased to say that Caroline's instincts were spot on, and Cambridge Enterprise agreed. So much so that they agreed to take on a temp in the interim, as Michelle couldn't start immediately.
Michelle's now happily continuing the excellent work of her predecessor, developing processes and foundations to support the growth – and mission – of her organisation.
How did Pure make a difference?
Michelle was particularly impressed with the way we listened to what she wanted, and only recommended roles that fitted with her ethos.
'Caroline understood how much I wanted to find a local role in a company that was mission-led, with values that complimented by own,' she says.
Michelle was also impressed with the calibre of the clients we work with. 'Pure's client list is packed with interesting companies with purpose,' she says. 'The fact that they took the time to understand how important that was to me, then match me with a company who shared my values, shows their commitment to great service. I couldn't be happier.'
Are you looking for help with your job search?
Our consultants are ready to find you the perfect position. You can check the jobs we have available on our website, or get in touch.