Charity
A night with the Ipswich Charity Quiz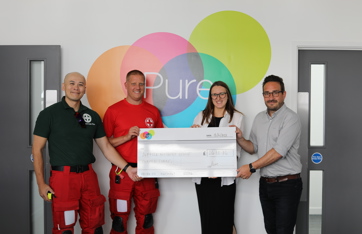 It's back – Pure's first post-pandemic charity quiz raises over £1,600 for Suffolk Accident Rescue Services
On 18 May we hosted our first charity quiz night since the pandemic. Local businesses and clients came together for a battle of the brains and raised just over £1,600 for the charity Suffolk Accident Rescue Service (SARS).
What happened on the night
Before the pandemic, Pure quiz nights were well known for playful rivalries and fierce competition. Our first post-Covid meet up at Venue16 in Ipswich saw 17 teams pit their wits against each other for the chance to be the 2023 quiz champions and ultimate bragging rights. Companies that took part included Bates, Wells & Braithwaite, EPRL, Poundgates and Birketts, with Beckett Investment Management being crowned the winners (each team member took home a bottle of champagne too). 
We also ran a raffle and silent auction to raise even more money for SARS. Prizes were donated by local businesses like Paddy & Scotts, Fishers Gin, LA Brewery, Honey & Harvey and Jimmy's Farm.
Paul Sheldrake, Director at Pure, said: 'The friendly competition between local businesses made the evening a lot of fun. I'd like to thank everyone who came along, donated or contributed to the event. We're delighted to have been able to raise such a fantastic amount for SARS.'
Gina Saunders, Project Officer at SARS said, "We are enormously grateful to the team at Pure for choosing SARS to benefit from the fantastic quiz night. The money will go a long way in helping us provide pre-hospital medical care across Suffolk which saves lives and reduces the chances of patients suffering permanent disability."
Contributing to our local charities
Our latest quiz night is just one of the ways we're giving back to the communities we're part of. In fact, we've donated just over £170,000 to more than 30 local charities since we were founded in 2002.