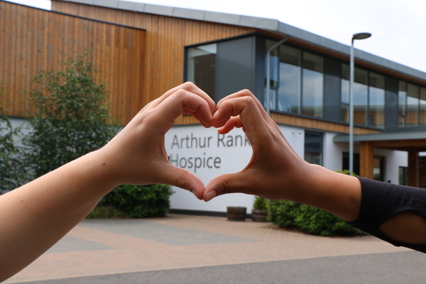 Arthur Rank Hospice Charity helps people in Cambridgeshire living with advanced serious illnesses or life-limiting conditions. They're a large employer with 250 colleagues and 600 volunteers in diverse roles including clinical, retail, fundraisers, therapists and board-level roles.  
The charity has taken part in Best Employers for several years, and in 2016 were crowned Best Large Employer for Customer Focus, followed by gold accreditation in 2021. Gemma Manning is the Charity's People and Operations Director and was a guest speaker at our Best Employers Q&A webinar. She sat down with Becky Wilson, Business Director here at Pure, to chat about how Best Employers has helped them, and how other organisations can make the most of it. 
How do you get your people interested in Best Employers? 
It's all about communication, especially with managers – it's vital they understand why we're doing it, why the survey's important and what they need to do to help. 
Because the survey's customisable, we discuss what should go in it with different groups across the Charity. For example, we have a wellbeing group, so I asked them what they wanted from the survey.  
Once the survey's ready, we send out an invite. We find it really helpful to include some information on how long it's likely to take to fill in. And we give people a deadline of around two to three weeks (we also give ourselves the option to extend it by a week if the response rates aren't quite there yet). We include a link to a document called 'You said, we did', which lists all the positive changes we've made as a result of feedback from the last survey. That's so colleagues can see that we do take action on the findings. 
It's also important to remember people who are on sick or maternity leave, and make allowances for them to fill it in. And we also make adjustments for people who might need a little bit of extra help (for example because they have a disability). The ward manager of our inpatient unit made it her mission to get everyone in her team to complete the survey. So she created a space for them to do that, either on paper or online, and gave them lots of encouragement. 
We also make sure we explain specific terms in the survey to make it relevant to our people. For example, many of our colleagues are dealing with 'patients' not 'customers'. 
Finally, we make sure it's really clear that the survey is completely confidential. We only collect demographic data if it's relevant to goals we want to achieve, and make sure it can't identify anyone individually. 
How do you share the results? 
We believe it's important to get some results out to everyone as soon as possible, then follow these up with more detailed reports. So we always produce an executive report showing the initial results or publish some key findings early on. We then share the full results with the senior leadership team and trustees. We also share a slimmed-down version of these (i.e. without individual comments) with various groups like the wellbeing group and our staff forum. I then offer to go to team meetings to look at results with each team. Before those meetings, I make sure I can talk about the headlines and key topics that came up in the results, and prioritise the things we want to make better. 
What do you do with the findings? 
I'm pleased to say that our results year on year have been good. We always want to do the best we can, so we celebrate our successes and don't put too much pressure on ourselves to fix absolutely everything. We do create and communicate an action plan though – that's something that's critically important to us.  
If you've been part of Best Employers for a while as we have, it's great to be able to compare different year's reports and look for common themes. For example, we were getting consistently lower scores on pay and benefit questions, so we've since carried out a large pay review project. This has resulted in a new pay framework. 
I also check where responses are coming from to make sure we're getting good representation across all our teams. Where that isn't the case, I know I need to take a more targeted approach.  
What are your top tips for organisations taking part for the first time? 
Take some time to set your survey up and get your questions right first time – you can't change them after it's gone live.  
Set a target for the number of responses you'd like to get (ours is 60 per cent minimum).  
Most importantly, don't take responses personally. There's likely to be some feedback that's less positive. And while you should own this, and take steps to respond to it and make changes if necessary, try not to fixate on the negative. Remember to celebrate the successes. 
Want to know more? 
Head to the Best Employers' website to find out more about the programme and sign up.