News
We've achieved gold from Investors in People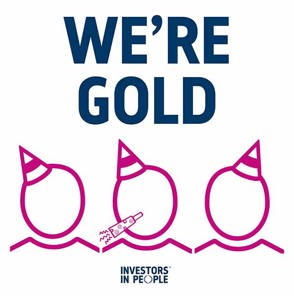 We're delighted to announce that we've just been awarded gold accreditation from Investors in People. Here's how we did it.
What is it?
Investors in People (IIP) is an international organisation that encourages businesses to value their people above all else. It offers accreditations including 'We invest in people' to organisations which can show they're actively making their workplaces better for their employees. Accreditations last for three years – this is actually the second time we've won gold.
Why is it important?
Over the last 30 years IIP have accredited more than 50,000 organisations. And the 'We invest in people' accreditation is recognised in 66 countries around the world, which makes it the global benchmark when it comes to people management. So we're in very good company.
This isn't just a box-ticking exercise for us either. We know how vital our people are when it comes to delivering sustainable results, especially during difficult times like the ones we're currently going through.
How did we win?
IIP assess organisations against a specific framework to understand how they're leading, supporting and improving their people. For us, this involved all of our people filling in an anonymous survey, followed by interviews with 10 per cent of our team to find out what it's really like to work for Pure.
The results were great. IIP told us that our people really appreciate the caring, supportive and trusting environment we create for them at work. They feel respected for their contributions, and because of this they're more than willing to help others do well.
IIP also applauded the way we have clear values and regular communications, and involve our people in planning and decisions. They pointed out that we also notice and recognise hard work and good performance. And that we give people clear career development frameworks with ongoing support for learning and growth, including mentoring programmes.
Singing our praises
Obviously we already know that Pure is a great place to work. But we're so happy to have this recognised publicly, and for the second time. All our results were better than our previous ones, which is incredible given the challenging times we've been through in the past few years. IIP were impressed with how enthusiastic our people were about our working culture, and how friendly and supportive it is. We scored above the IIP average in the company survey, and above the average for our sector.
We're particularly pleased to say that 100% of the Pure people surveyed and interviewed agreed that:
we have clear values that we share successfully
we encourage them to perform to the best of their abilities and make sure they have regular performance discussions with their managers
their roles let them work well with others and that they're able to develop the skills they need to progress
Pure is a great place to work!
Gill Buchanan, our chief operating officer, said: 'Being awarded gold accreditation is an incredible achievement. And it recognises how much we care about our people. It's also a testament to the culture and workplace that we provide.'
Ben Farrow, our operations director, added: 'We're so proud of our gold accreditation. But we're not stopping here. We're going to keep making sure Pure is an amazing place to work. So we'll continue to grow and evolve our commitment to our people.'
Think you could be a good fit for Pure?
Find out more about what it's like to work with us.