Stories
Perfecting the work-life balance with Laura Taylor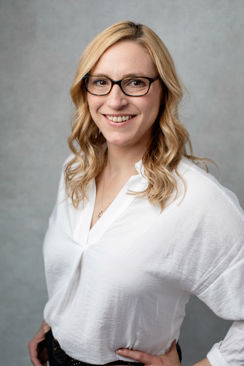 At our latest Finance Leadership Programme virtual session we were delighted to welcome Laura Taylor, a chartered accountant, to share her experiences and 'tales from the top'. Laura is a busy working mum who's passionate about helping women juggle successful careers with raising a family. We were so inspired by her talk that we'd like to share it with you.
Laura graduated with a first-class honours degree in human cybernetics (and although she never did design a Terminator, she was involved with creating the first 'machine-learning' robots). She followed this up with a chartered accountancy qualification which led to three years with the professional services firm Deloitte. Sadly the job didn't suit her, and she left at the end of her training contract. After taking a year off to travel, she took on a few different finance roles, including a stint in investor relations, before becoming chief financial officer at Cambridge Nutaceuticals.
What was the problem?
Laura found she was working much too hard, and finding it difficult to delegate work to team members. 'I had no clear priorities or direction. I worked at the whims of others and spent most of my days buried in emails.' This overwork led to her feeling stressed and anxious. She struggled to see a way forward and think clearly without getting overwhelmed.
How did she fix it?
Laura describes herself as 'fanatical' about personal development and productivity. So she did a lot of research in this area, including hiring a coach to help her find her blind spots. She then adopted Michael Hyatt's 'Full Focus System', which helped her improve her performance at work without compromising her home life. 'I believe in this system so passionately that I recently qualified as a "Full Focus Planner Certified Pro". This means I can share my knowledge and lead others through this achievement framework.'
Laura has also set up a coaching business called Managing Myself. She uses it to share knowledge from her 25-year career. 'I mainly work with professional working mums. I help them get productive and find that elusive work-life balance: the double-win!'
Laura also credits her success to finding an organisation to work for which shares her values and beliefs. Cambridge Nutraceuticals (which trades under the name FutureYou Cambridge) produces premium scientifically proven health supplements. The company was one of our 2021 Best Employers winners for the positive and inclusive working environment they provide for their people. 'The company gives me a platform where I – and everyone else – can shine,' says Laura. 'We're all celebrated in our own unique ways.'
What have the results been?
Laura's really proud of the achievements she's made after taking control of her work-life balance. One of her favourites is successfully steering the company through some tough restructuring when the COVID-19 pandemic hit. 'I'm pleased to say that we came out the other side with a much stronger business model', Laura tells us. 'One which meant we were able to carry out our first acquisition in late 2020.' She's also recently taken the business through the Investors in People assessment. They  were awarded Gold on their first attempt: 'Being recognised for how we foster a high-performing, inclusive culture makes me so proud.' 
Want to know more?
Our Finance Leadership Programme helps finance professionals achieve their full potential. Speakers like Laura really bring it to life. Our next virtual session takes place on Wednesday 5 October, find out more and register here.