Opinion
Ho, ho, how to recruit over the festive period
Are you looking to bring new talent into your team in early 2023? You might think you have loads of time, but the recruitment market in our region continues to have many more jobs than jobseekers. Combine this with Christmas being just around the festive corner – and all the out-of-offices that brings – and you could find yourself left out in the cold come next year. Don't worry though. Giles Dawson, one of our recruitment consultants, is here to tell you how getting recruitment-ready now will mean you'll be all set for 2023.
Let's start with the numbers. If you want a new member of staff to start on 3 January, they'll need to hand their notice in at their current job on 2 December (assuming they have to work a month's notice). If we add in a week or so for decision-making and any negotiations, that means you'll need to make them an offer by 25 November. That doesn't leave you much time for interviews, especially if you need to do two, or more stages. Factor in your people's days off and long weekends for shopping or festive get-togethers, and you're likely find you're even more pressed for time. So what can you do?
The best piece of advice we can give you is to be efficient as possible with time – both yours and the people you're interviewing for the job. Here are our top tips on doing just that.
1. Get help from a recruiter
Spending time reviewing CVs can really slow you down. Blocking out time for it can make all the difference, take a 5-minute coffee break to read through the CVs that have been sent to you as soon as you get them. If speed is your aim, take control of what you can and respond quickly.
This is where a recruiter like Pure can help – we'll be familiar with your market, and likely already have jobseekers on our books who'll be a great fit. We can create a shortlist of qualified candidates for you, which means you can start interviewing much earlier. This process can take time depending on candidates so saving time where you can is vital. The more warning you can give your consultants about upcoming recruitment plans, the sooner they can keep your roles in mind when speaking to applicants.
Speaking of which…
2. Speed up your interview process
If it means seeing the applicants sooner, maybe try to arrange interviews outside of working hours. This means a working applicant isn't waiting to get time off approved or rushing to meet you during a lunch break.  Try not to have too many people involved at each stage either. Coordinating multiple diaries or getting decisions from lots of different people is never easy, especially not at Christmas.
Video interviews can be much quicker and easier to schedule too, as you don't need everyone to be in the same place.
For more tips on this, check out this article about streamlining the interview process.
3. Think about getting a temp
If you're not sure you'll be able to fill a permanent position in time, you could hire some temporary workers to take the pressure off while you're looking for permanent staff.
Again, this is something we can help with. All our recruiters have access to skilled temp and contract workers, who can help plug a short-term gap.
4. Be prepared
You might be thinking, 'I don't need someone until the end of January, so I'll just hang on.' My advice is, don't. We often have an influx of new roles in January as decision-makers give the green light on their return to work. If that's when you begin your search, you'll be starting the new year on the back foot.
Get ahead of the game and let your consultant know what you're going to be looking for in November or December, and you could have your pick of candidates in the first week back. If your consultant is fully briefed on your recruitment needs, they can sow the seeds of your new role to those who are happy to wait.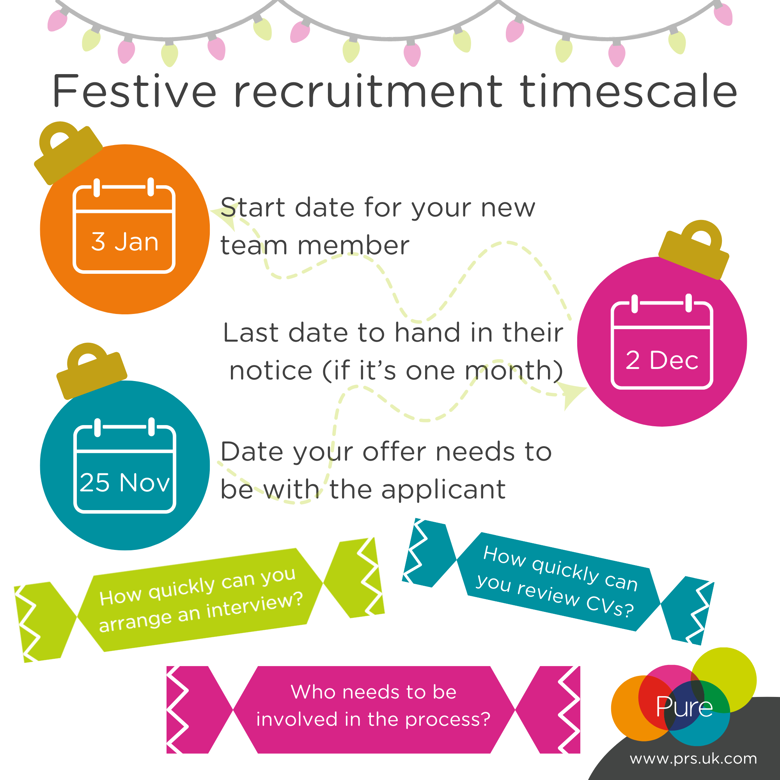 Need some help?  
If you would like to discuss your recruitment needs for the new year, get in touch with one of our team today. You can view all our contact details here.