Stories
Finding a dynamic duo for RGE Services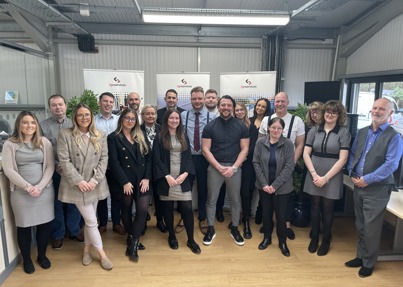 RGE Services is a specialist property services and maintenance company. Established over 30 years ago, they're based in Chigwell in Essex. The business serves public sector clients, covering both residential and commercial property. They have 140 staff, most of whom are mobile fire and electrical systems engineers working in over 10,000 properties across London and the southeast.
The challenge
RGE Services were looking for a finance director and financial controller. The finance director would be expected to take ownership of the full finance function, build and deliver a range of reporting, and create solid relationships with the senior leadership team as well as the company's private equity partners. The financial controller role was a new position, created specifically to help grow the business, both now and in the future.
For Stuart Black, RGE Services' Chair and Executive Chairman, it wasn't just about finding people who had the right skills and experience – he was keen to make sure the successful candidates were also the right cultural fit for the business. He was also very aware of how challenging the recruitment market is right now, with lots of positions available but a shortage of talented candidates willing to switch jobs. That's why their private equity investor, YFM Equity, suggested they came to us.
The solution
Andy Dowsett, Business Director here at Pure, quickly analysed RGE Service's brief. We then sent them a range of candidates we thought would be good options for them. The next step was to sit down with RGE Services to look at the candidates together – this helped us clarify exactly who they were looking for. Then Andy took their feedback and used it to create a list of suitable people, from which they ultimately chose the two successful candidates.
How we made a difference
We showed RGE Services that we understood both the type of people they were looking for, but also that we were very familiar with the local marketplace. We then used our network to get them people they wouldn't otherwise have been able to access.
Stuart was really pleased with how we ran the process. 'We chose Pure for two reasons,' he says. 'First, because of their wide network of candidates, and secondly because of their comprehensive knowledge of the local market – much more so than the competition. From the first meeting we felt very comfortable working with Andy. And we went on to appoint two very strong individuals, so we're delighted with the result.'
Can we help you?
At Pure Executive, we specialise in board-level appointments, helping organisations with their succession planning. So if you're recruiting for an executive position, or looking for one yourself, feel free to get in touch

Written by
Andy Dowsett
A Business Director, Andy is responsible for our Chelmsford office, senior finance and executive roles across Essex. With over 20 years of commercial experience, he was promoted to business director in 2022. Andy takes pride in developing his team to provide exceptional recruitment consultancy to diverse organisations across Essex.