Charity
A meeting of charitable minds – our Charity Leaders Group
On 18 May, charity leaders from across our region gathered together at our first Charity Leaders Group of 2022. Through networking and talks, they explored how their organisations can get ready for the future in a post-pandemic world. Don't worry if you couldn't make it though – here's what happened on the day.
What's the Charity Leaders Group?
We developed the Charity Leaders Group with our partner, accountancy firm PEM. It gives charity executives in the eastern region the chance to discuss issues related to the non-profit sector.
David Culley, Managing Director at Pure, said, 'After so long apart, I'm really pleased to be able to bring charity leaders together again. It's so important to give them the chance to hear, learn and contribute to the conversation about challenges they face as we move forward.'
We had two speakers on the day – Donna Talbot from the Arthur Rank Hospice Charity (ARHC), and Vanessa MacDougall of xtonnes.
Donna Talbot – how the pandemic has affected charities and fundraising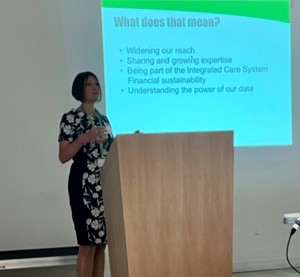 Donna is Director of Fundraising and Communications at ARHC, a Cambridgeshire charity that helps people living with life-limiting conditions. She shared her experiences on the challenges and opportunities brought about by the pandemic and the changing fundraising landscape.
Some of the changes the pandemic forced organisations to deal with include:
always having to have a plan B (and C) for events – shifting government guidelines and sickness mean that guest and volunteers numbers can change at short notice
replacing cash collection buckets with tap-and-pay alternatives
embracing social media as the way to keep in contact with your audience, making it vital to keep up with trends in this area
flexible working patterns and how important it is for leaders to provide more pastoral support to teams to help avoid feelings of isolation.
So what's the answer? Well, Donna summarised her experience by highlighting how vital it is for charities to embrace change, find new ways to connect with people, and inspire them to donate. She shared a great example of how ARHC responded to lockdown by creating a new phone line as part of their end-of-life services. This actually prevented a significant number of hospitalisations. Moving staff to home working also meant they were able to repurpose office space as clinical video consultation rooms.
It's also important to make sure your fundraising teams are still passionate about your cause. Setting up regular times for them to come back to the office will help them feel connected, and see the real work the charity delivers. This in turn will help them build real stories to tell their audience, creating more authentic and passionate fundraising messages.
Vanessa MacDougall – building a carbon reduction plan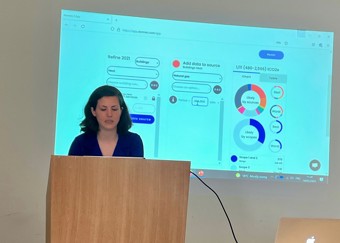 Vanessa MacDougall co-founded xtonnes as a way to help reduce the impact of global warming. The company offers an innovative diagnostic tool that helps organisations cut their carbon emissions.
A survey carried out by the Charity Finance Group revealed that 84% of charities don't have a net zero objective. And only 14% currently report on their carbon emissions. So it's clear that charities have a long way to go in this area. Vanessa said that much of this could be helped by simply changing mindsets from offsetting to reduction – because net zero just isn't a realistic target for most businesses, non-profit or otherwise. But reducing carbon emissions definitely is.
She went on to discuss how charities should identify their carbon baseline from the previous year and use that to set their aim for reduction (there's a free online tool available on xtonnes' website to help with this). Her solution for reduction is called 'mean, lean and green':
mean – scale back or even get rid of assets and activities that are increasing your carbon footprint
lean – improve assets or make them more efficient
green – change inputs and suppliers to reduce the impact of assets or activities.
And finally…
We're pleased to say that the event was really well received. And it gave our members lots of opportunities for discussion and virtual networking. If you'd like to be part of the conversation, join our Charity Leaders LinkedIn group.
Want to know more about the Charity Leaders Group?
Please feel free to contact David Culley here at Pure, on 01223 209888, or send him an email.