Stories
Weaving professional success at Stephen Walters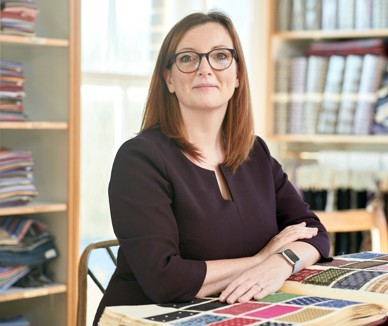 Founded in 1720, Stephen Walters is a family-owned company which manufactures luxury fabrics at their mill in Sudbury, Suffolk. Known for combining artisan skills with the latest technology, they specialise in using Jacquard weaving to create innovative fabrics for men's and ladies' clothing and neckwear. Their custom-designed, bespoke woven fabrics include silk, wool and linen.
We designed our Women's Leadership Programme for women who want to boost their confidence at work, develop their leadership skills and build a new network. It also helps organisations make sure their aspiring female talent are achieving their potential.
The challenge
Lynn Walters (no relation), Executive Director at Pure, talked to Julius Walters, Stephen Walters' Managing Director to see if the Women's Leadership Programme could benefit anyone in his organisation. Julius recommended Ceri Yates, who'd joined the company as an Account Manager in 2002. She'd since become Director of Sales in 2018.
But Ceri was reluctant to take part, questioning the benefits of a female-only programme. "I was hesitant to take part in the programme because I thought it would be aimed at improving work/life balance with a focus on women with children. As I don't have children, that wasn't something I was interested in. I wanted help with how to develop as a leader and become more confident, and also on ways to overcome my 'imposter syndrome' – I didn't feel as though I deserved to be in the position I was in."
To help convince Ceri, we put her in touch with three previous delegates. And after speaking with them she was pleasantly surprised and encouraged. "All of them told me how much they'd enjoyed the programme and what they'd learnt."
The solution
Ceri joined the Women's Leadership Programme which started in November 2019 and took place at Ickworth House. "The course taught me that I do deserve to be in my role," says Ceri. "I really enjoyed the practical learning approach and the way the content was delivered – sometimes a group conversation and other times working in pairs. The reflection time was also invaluable to my learning and working out how I could apply the new tools and techniques back in the workplace."
And it looks like it's paying off – in December 2020 Ceri was promoted to Sales Director, a board-level role, something she attributes to the Women's Leadership Programme.
How the programme made a difference
Being promoted to Sales Director has boosted Ceri's confidence in her leadership abilities, and she thinks a lot of this is down to the Women's Leadership Programme. "It's helped me and my organisation immensely. I've learnt how to be a leader rather than a manager, how to think more strategically and how to be an inspiration to my team." She also learnt a lot from other delegates she met on the programme.
Ceri says it's helped her outside of work too. "The programme's given me the ability to take time out from my day job to focus on my personal self-development. I've realised the importance of taking some time to look within and create self-awareness which will help me move forward in my career."
Ceri's keen to recommend the programme to others as well. "If you get the opportunity to do it, just go for it. Make sure you're 100% committed and be present when you're there to get the most out of it. It's also really important to have a sponsor in your own organisation – someone who'll support you and encourage your development, and who's also committed to engaging with the programme." 
Find out more
If you think someone at your organisation could benefit from our Women's Leadership Programme, you can find out more about it here.