Charity
Supporting East Anglian Air Ambulance with their self care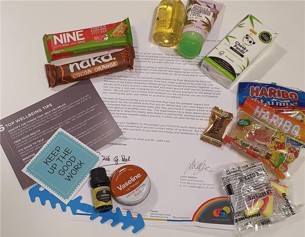 For many people, being on the front line during such a difficult time can be incredibly challenging. We have been touched by the many stories in the media of how frontline workers are struggling, coping and managing during this time.
So when East Anglian Air Ambulance asked us to sponsor an initiative for their people, we jumped at the chance to give back.
We are pleased to support East Anglian Air Ambulance, their front line crew and ground staff with their wellbeing and welfare by contributing to their 'self-care packs'.  These packs include a thank you letter, top wellbeing tips, snacks and healthcare products.
Pure are also taking part in supporting EAAA with "Letters To the Front Line". This initiative matches our team with an EAAA crew member, sending them a letter to wish them well, raise their spirits and demonstrate that we appreciate everything they are doing to keep us safe. 
The crew are under tremendous pressure to support the pandemic and are undertaking extra patient transfers in a very difficult environment. We are acutely conscious of the sacrifices they have made over the last 10 months but hope this gesture goes some way to show our appreciation and gratitude.
About the East Anglian Air Ambulance
East Anglian Air Ambulance exists to save lives by delivering highly skilled doctors and critical care paramedics by air or road to seriously ill or injured people in the region. 
Since launching in 2000, the air ambulance has attended over 30,000 lifesaving missions, touching the lives of many thousands of people. Their crew comprises specialist pre-hospital doctors and critical care paramedics, operating out of two high-tech helicopters from 07:00 until 19:00 from our Norwich base and from 07:00 until midnight from our Cambridge base.  
If you would like to find out more and support their work visit www.eaaa.org.uk  

Written by
Lucy Shepherd
Lucy joined Pure Executive in 2014 to support the Executive Recruitment team with research and administration of Executive and Board level appointments, as well as facilitating and organising events.