Stories
Sowing the seeds of success for Thompson & Morgan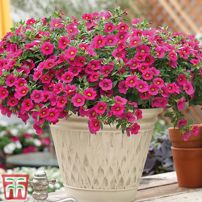 Since publishing their first seed catalogue in 1855, Ipswich-based company Thompson & Morgan has grown to become the UK's largest supplier of mail-order seeds and plants. They offer home gardeners across the nation quality products including seeds, gardening supplies and gifts and, through their international website, sell these all over the world.
The challenge
As a gardening supplies company, Thompson & Morgan are used to needing temporary staff to deal with seasonal peaks in demand, sometimes at very short notice. But the COVID-19 lockdowns have meant that those of us lucky enough to have gardens have been spending more time than ever in these spaces. And this brought a surge in business they just weren't prepared for.
The solution
Jo Mothersole, Personnel and Recruitment Coordinator at Thompson & Morgan, came to us for help. She'd previously worked with Laurie Smith, one of our recruitment consultants at Pure Ipswich. Despite some initial nervousness about signing with a new agency, Laurie and Paul Sheldrake (our business director) made a great impression with their knowledge of Thompson & Morgan's industry. This, combined with Pure's expertise in the eastern region, quickly quashed Jo's concerns. So it wasn't long before we were recruiting temporary customer services advisors – 47 in total throughout 2020 – to help their business cope with the increased demand for seeds and plants during the pandemic. As Jo says:
'We loved the fact that Pure's a regional business. It felt very much like an agency that looked after its own staff – so we knew we'd be looked after too. There was also no hard sell, something that was really important to us.'
How did Pure make a difference?
Jo was most impressed with the personal service she got from our recruitment consultants – especially Laurie. 'I would highly recommend Pure but, more importantly, Laurie. She understands my business needs, and she gets to know her candidates well. I know I can truly rely on her to help out in my hour of need! She'll also always go above and beyond – there have been times when we've needed to have tricky conversations with people, and Laurie has put herself out there and dealt with these.'
Even when the pandemic impacted our own business and Laurie was on furlough, Paul stepped in and Jo didn't notice any drop in service. 'Laurie had done a full handover and there was nothing Paul was unsure of. Even though I hadn't worked with him before, we quickly developed a nice working relationship – I knew I could ask him anything, and he'd help us.'
As the world starts to return to some semblance of normality, we're pleased to say that our relationship with Thompson & Morgan is set to continue. Jo says:
'I've worked with several different agencies over the years, and I'd say Pure is the most professional, friendly and competent company I've had the pleasure to deal with. This isn't something I say lightly. Recruitment agencies sometimes have a bad reputation for being pushy and very sales driven. Not once have I felt this is the case with Pure. Due to this and Laurie's hard work, I hope our working relationship will last for years to come.'
Find out how Pure can help you
If you're looking to recruit new temporary or permanent staff, or even looking for a temporary role, feel free to get in touch with our recruitment consultants to see what we can do for you. We're looking forward to hearing from you.