Opinion
Don't neglect your candidates
When you're recruiting, it can be all too easy to forget that this is a two-way street – candidates need to show you they're the best person for the job, and you need to show them that your business is a great place to work. But a slow or disorganised recruitment process could mean you're missing out on the very best candidates.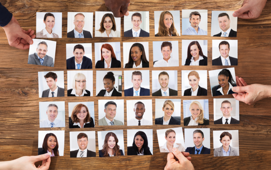 Back in February, our CEO Ian Walters wrote about how the job market in our region is bouncing back after a tough year. Thankfully that growth looks set to continue, which means plenty of companies are looking to add new talent to their teams. And as job vacancies continue to increase, it's more important than ever that businesses pay attention to the experience they're giving to potential hires. In short, you should be pulling out all the stops to impress during your recruitment process – otherwise, you could lose your ideal candidate.
First impressions count
Your recruitment process must showcase your employer brand. Yes, applicants need to show you that they have the skills and experience to do the job. But you also have to convince them that you're the company they want to work for. Your recruitment process is likely to be their first proper experience of your brand. So if it doesn't work properly – for example, if you don't acknowledge their application, send them stock responses or take weeks to get them in for an interview – they might think you're unlikely to treat them well as an employee. This in turn means you're likely to struggle to fill roles, which can lead to increased workloads for existing staff, problems meeting objectives and even loss of business.
Don't worry though – there are lots of easy ways to make your candidates' experience of your hiring process something they'll remember for the right reasons.
Start at the beginning
Look at your application form (if you have one). If it's incredibly long or complicated, have a think about simplifying it. The fact is that a lot of people will just give up if a form is taking them too long to fill in – so you could be losing valuable candidates without even realising. This doesn't mean you need to dumb anything down though. Put yourself in a candidate's shoes and think about how you can make it as easy as possible for them to apply. Clearly, state exactly what skills, experience and qualifications you want from them in plain English (if you can include some salary information as well, even better).
It's a good idea to tell people how long you'll take to get back to them as well – you can do this in an auto-reply if you're getting your applications by email. Then make sure you stick to your own timescales. We also recommend you avoid saying things like 'we'll only contact successful applicants' – these days it's very easy to let someone know if you don't want to interview them with them a standard email. A well-worded polite rejection is likely to leave a much better impression than just leaving someone hanging. If you're a smaller company this personal touch will also make you stand out from any more well-known competitors. Remember that we live in a world where social media is king, and sites like Glassdoor mean it's easy for people to share their experiences of your recruitment process, good or bad (and let's face it, they're more likely to do that if it was bad). So if someone shares how great their experience of your recruitment process was (regardless of whether they got the job or not), it could lead to your perfect candidate taking a chance on you.
Put a streamlined recruitment process in place
Agree fast turnaround times for when you get an application form or CV, and when you contact candidates to invite them in for interviews (then make sure you stick to them). No one expects to be asked for an interview the day after sending in an application, but responding within a week or two could make you stand out from the competition. Spend much more time than that reviewing CVs, and your favourite candidates might have already moved on to the place that did get back to them quickly.
You can also use technology to speed things up as well. The COVID-19 pandemic has forced many of us to embrace video-calling technology to do our day-to-day jobs. So there's no reason why you can't do the same with interviews. In fact, this might mean you can organise these much more quickly than waiting for people to be able to find the time to come into your office. You might also encourage people from further afield to apply as well.
Keep talking
There's nothing more frustrating than going for an interview somewhere, then hearing nothing for weeks. And in today's fast-moving market, not communicating with your applicants is an easy way to lose them to someone else. Speak to them early and often, letting them know what's going on with the position they've applied for. Send a quick email soon after you've seen someone for an interview thanking them for coming in, even if you haven't made a decision yet. Then when you are ready to make an offer to someone, do it quickly – if you don't, they might get snapped up by someone else.
You can also ask candidates for their feedback on your recruitment process – it's an easy way to check if there are any areas that you need to improve.
Need some help?
If you'd like to talk about anything we've said above, or need some help filling a position at your business, get in touch to find out how we can help.