Stories
A strong working relationship approach with ECCH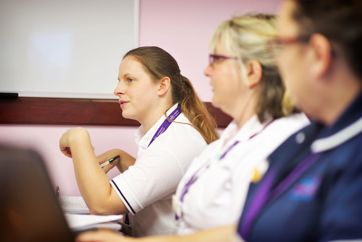 East Coast Community Healthcare CIC (ECCH) is a thriving, staff-owned Social Enterprise providing community-based health and social care services in Norfolk and Suffolk. With a workforce of about 800 staff, ECCH is one of the largest Social Enterprises in East Anglia.
In mid-2020 the ECCH Chief Executive Officer (CEO) announced his intention to retire in April 2021. ECCH had to take into consideration the critical importance of the appointment and our capacity to manage such a comprehensive recruitment programme during the COVID pandemic when our resources across the organisation were being called upon more than ever.
THE CHALLENGE
ECCH commissioned Pure Executive to work with us after scoping out a number of providers. Lisa Henderson, Deputy HR Director said:
"Our main reasons for choosing Pure were that their approach not only embodied a partnership approach but combined an excellent understanding of the regional and national landscape of not for profit and health and social care sectors that we needed to attract a good pool of potential candidates."
David Culley, Director at Pure, worked closely with the Chair and his appointment committee to define the role and decide upon the core skills required. During this consultation, he explored the 5-year strategic plan and identified that the new CEO should ideally have commercial experience but also need to have a thorough knowledge of the healthcare ecosystem.
Two additional challenges were that firstly the role would be based in Lowestoft a relatively remote part of the country. Secondly, the pandemic imposed significant practical constraints around the assessment process, and also significantly reduced the number of active jobseekers.
THE SOLUTION
In designing the recruitment strategy, David ensured ECCH could promote their story to a large enough audience and encouraged a creative and proactively approach to attract a wide enough pool of talent by:
Refining the requirements for our CEO role through discussion and positive challenge.
Identifying a comprehensive multi-channel approach to promote the vacancy.
Utilising extensive connectivity to identify potential candidates.
Fielding initial enquiries and an initial selection process.
Providing a detailed synopsis and profile of each candidate.
Conducting Psychometric testing and evaluation, meeting with our Board members on the appointment panel to talk through results.
Allocated a lead Director to work with the ECCH Chair and HR lead.
A highly engaging and informative microsite was created to inform candidates about the role, and this included a video welcome from the Chair, cultural insights and full job particulars – ecch.prs.uk.com.
The role was advertised widely using the NHS Jobs website, the Guardian Online, Charity jobs, Executive Appointments, and other more mainstream websites. David also conducted extensive searches using LinkedIn Recruiter which included mapping the whole NHS infrastructure for the region. Finally, we approached several Non-Executive Directors and all Executive leaders of local NHS Trusts requesting they promote the opportunity amongst their networks.
Video assessments were carried out with the strongest applications and weekly video feedback sessions took place with the Chair and HR Director to update them on progress. A meeting with all Non-Executive Directors was facilitated by Pure to walk through the long list of candidates and a shortlist of 6 candidates was agreed.
The final appointment was made a week later following a carefully arranged, socially distanced face to face meeting between two preferred candidates and the appointments committee.
The chosen candidate came from private sector consultancy but had immediate family connections within the NHS which served to ensure the original brief of commerciality coupled with deep healthcare knowledge was achieved.
HOW PURE MADE A DIFFERENCE
Lisa says, "We cannot recommend the services of Pure Executive highly enough. Our experience of working with David and his team to bring our new CEO on board was excellent. David developed a good working relationship with ECCH's Chair and HR lead, and his knowledge and experience enriched the process and contributed to a successful first-time appointment."
"Excellent and timely communication keeping both candidates and us up to date at all stages and his extensive knowledge of the sector and potential sources of interest.  Pure Executive produced a comprehensive campaign attracting a good selection of candidates from various backgrounds. The flexibility and responsiveness to adapting the process throughout the changing scenarios of lockdown requirements and their support in managing timely communication was invaluable."