Opinion
Why is it important to have diversity in the workplace?
If you were to Google "diversity in the workplace", you would find any number of articles that explain why it is important.  Fundamentally, it all points to this – more diverse workforces perform better financially and are more innovative.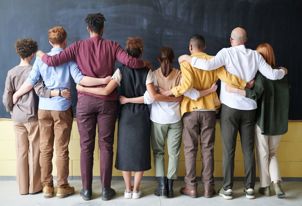 We were recently contacted by a client who asked us if we could provide a board observer as part of our Board Ready Talent Scheme. This meant that an individual who is preparing for board level positions has the opportunity to observe the workings and dynamics of a board first-hand.
As an organisation, with two female executives out of six on the board, our client wanted to ensure that their Board is genuinely diverse and ensure this is sustainable for the future. They also wanted to provide a unique opportunity for an ambitious individual who would benefit from the experience. They selected a person who they felt could benefit the most from this opportunity and contribute to their diversity objectives. 
The CIPD's published an article on Building Inclusive Workplaces, which discusses how promoting and supporting diversity in the workplace is an important aspect of good people management. They explore how diversity should go beyond legislation and become inclusive at all levels of an organisation, contributing to employee engagement and wellbeing. However, hiring a diverse workforce does not ensure that every employee has the same experience or opportunities.
There is no doubt that organisations need to work harder to support diversity, internally and externally. Not only is it the right thing to do but it makes good business sense.
Recently, our Executive Director, Lynn Walters, sat on Norfolk Chambers panel discussion on "The Importance of Diversity and Inclusion in the Workplace". Along with the lockdown and Black Lives Matter, we have been thinking a lot about the wider subject of diversity in the workplace and why it is important. (listen to the Norfolk Chamber discussion here.)
How can organisations in the Eastern region recruit diverse workforces?
We have seen businesses across our region become more productive and successful with diverse and inclusive Boards. The boards that perform better in challenging times are those that are diverse as different people offer different perspectives, which helps with making difficult decisions. This current crisis has been a testament to the importance of diverse leadership. The business case for diversity at all levels in the workplace is clear and progressive organisations seek diversity of experience, behaviour and thinking. A diverse boardroom should reflect its customer base, lead to better decision making and improve business performance.
The CIPD report also suggests that organisations need to think beyond increasing diversity and tackle the challenges around workplace equality, personal bias or exclusionary culture. To address this, organisations need to be inclusive as well as diverse. Inclusion is fundamentally about an individual's experience and allows everyone to contribute and feel part of an organisation. Hiring a diverse workforce does not guarantee that every employee has the same experience or opportunities in the workplace. Given that all employees are unique, inclusion is relevant for everyone in a business and it works hand-in-hand with diversity.
Lynn Walters says, "When it comes to recruiting, noticing and paying attention to diversity is a good first step. As you enter the recruitment process, evaluate how diverse your shortlist is and ask your recruitment partner to provide a diverse shortlist, encouraging wild card candidates who may not meet every single criteria, but bring a broader perspective. Measure the proportion of your recruits from diverse backgrounds over a year to help you understand diversity in your organisation."
Providing a psychologically safe environment where everyone feels that they can participate and achieve their potential is fundamentally important to engagement, diversity and inclusivity. At the recent Norfolk Chamber webinar, Richard Ross Director at Chadwicks, suggested asking "why do we want people to fit in?" He proposed that a huge benefit of ensuring there is diversity in the recruitment process means that people are able to bring their own experiences into the team and keep diversity of thought going in the organisation. Cultural fit can be challenged. Simply talking and listening to people from diverse backgrounds opens the opportunity for new ideas.
Finally, encourage role models to speak out about their own experience and then really listen to understand. Whether these are internal or external, positive role models give people aspiration, inspiration and will challenge negative behaviours.
Achieving diversity
Over the past 5 years, Pure have focussed on broadening gender diversity in the Eastern region, through three distinct initiatives:
Women's Leadership Programme - we have worked with more than 100 women and their organisations over the past 5 years.
Board Ready Talent Programme - we help aspiring professionals make the transition to Board level and 50% of participants are female.
Measuring the gender split on short-lists and board appointments
Diversity is important to us at Pure from three perspectives:
For our own business
For our clients and organisations across the eastern region for whom we recruit
For our candidates to ensure their applications are not affected by conscious or unconscious bias.
Having watched events unfold this year, it has prompted us to challenge ourselves on all aspects of diversity, both within our own organisation as well as wondering how we could do more to support our clients through recruitment and development. It is fair to say that we are at the start of our journey, and keen to explore and better understand the broader aspects of diversity. 
This focus is gaining momentum and we believe progress is being made, but there is still much work to do.
Discover more
If you would like to discuss your recruitment strategies, talk to our consultants today and discover more about how our Women's Leadership Programme and Board Ready Talent Scheme can support people in your organisation.
Here are some useful resources for further reading: