Stories
Putting culture on an equal footing to our growth targets and service quality

The Fountain Partnership, based in Norwich, won the Best Employers Eastern Region 2018 Best Overall Medium Company Award and also achieved Platinum Accreditation. Read how Best Employers helped Fountain to build upon its already proactive approach to employee engagement, delve deeper into team feedback and bolster its reputation as a great employer in a really visible way.
About
Fountain is a digital marketing agency based in Norwich which specialises in achieving measurable growth for clients across the globe. It takes an evidence-based, forecast-led approach to work with clients to achieve their targets, looking beyond traffic and clicks to identifying the right kind of customer, their lifetime value and achieving customer maximisation. Its growth has been based on the success of its clients, and it has achieved recognition from Google for being the best agency in the world at growing businesses online.
Why did Fountain take part in Best Employers 2018?
When we were first introduced to Best Employers we were unsure about asking our employees to engage in more feedback as we were already carrying out team surveys. However, once we understood the depth of data Best Employers would provide and realised it would provide us with the opportunity to compare our survey results against regional averages, we appreciated it was an important initiative to be involved with.
How did Best Employers help Fountain with employee engagement and frame its strategies for the future?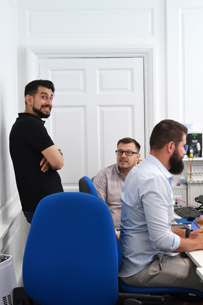 We value our team of passionate, committed and talented Fountaineers. They take pride in their work, truly care about their clients, and are ambitious in delivering exceptional outcomes. In turn, we take a very proactive approach to employee engagement and are committed to looking after and developing our colleagues. We were already using a quarterly survey as a check-in for how engaged our team are on a rolling basis. The Best Employers survey allowed us to do a delve even deeper into how the team relate to us as an employer, and also identify the areas that we can focus on to do more.
What were the benefits of taking part?
Winning the Best Employers award was a lovely recognition to receive. Being a service business, it is incredibly important to us to ensure that we have a happy, healthy team, who feel supported and valued and thrive in their work – and this survey helped us to maintain that. When it comes to recruitment, achieving Platinum Accreditation and the Best Employer Award for Medium-Sized Businesses, definitely helps to profile Fountain to potential new team members. We're lucky to have a great reputation as an employer, and this has bolstered our employer brand in a really visible way.
What the judges said ...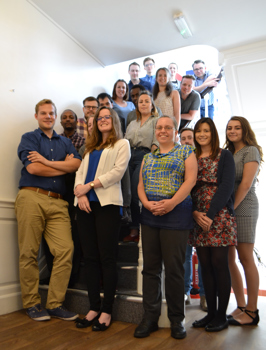 The Fountain Partnership is clearly committed to promoting its values and engaging its employees. Across all the measures they impressed the judges in terms of their direction and vision. All staff are able to access flexible working and there is a culture where 'Fountaineers' are trusted to manage their time and workload.
We were particularly impressed with Fountain's approach to learning and development. They take a flexible approach to creating specialisms internally based on what team members find they have a particular knack or passion for. This gives employees the opportunity to find a niche and 'own' it, contributing to their confidence and career progression.
The company's values, which were written collaboratively by the whole team, are communicated clearly and have been expanded into behaviours which are used in recruitment, inductions and performance management reviews. The directors have also put a lot of thought into how they reward and recognise their employees. A financial incentive scheme has been created which helps to build teams, rather than competition, while still recognising and rewarding hard work and responsibility. Excellent performance is also rewarded by more challenging and fun client projects, so the work itself is the reward.
Fountain also provides the opportunity for team members to give back to the community in a variety of different ways, from fundraising and volunteering through to using their specific expertise to make a difference. The agency is currently supporting the Norwich Community Sports Foundation's project to 'Build the Nest', which will be a new community space for different disadvantaged groups to get together, engage in fun activities and support each other.
Overall, Fountain has an amazing staff retention record and has developed an employer brand which attracts a steady stream of prospective applications from potential candidates. The culture they have developed is that work should not be at the cost of life. The directors recognise that all Fountaineers have commitments and passions outside of work and that nurturing and supporting these will mean employees are happier and therefore better at their jobs.
What the client said ...
We really didn't expect to win an award for our employee engagement, but it felt amazing to have that external affirmation for our approach to company culture and wellbeing. It is clear that investing in employee engagement and team wellbeing has a direct impact on the quality of work we do for clients, and, in our industry, to their bottom line. On a personal note, being part of a happy team, who are passionate about their work and proud to be Fountaineers, is extremely rewarding. We are excited to continue to offer an exceptional environment for our team.
How has Best Employers made a difference to Fountain?
Becoming an accredited Best Employer is important to us because it recognises an area of the business that we are incredibly passionate about. We have put our culture on an equal footing to our growth targets and our service quality, because we know how vital it is to the future of the agency. We have committed to being innovative in how we approach culture, organisation structure, development and employee engagement – and this award and accreditation recognises our commitment in this extremely important area.
The background to Best Employers Eastern Region 
As a professional recruitment consultancy, Pure supports businesses in the Eastern region with talent recruitment, retention and succession planning. It recognises the significant impact employee engagement and workplace culture has on an organisation's employer brand and its ability to attract and retain the high-calibre employees needed to achieve business growth and success. Working with strategic partner eras ltd, it created Best Employers Eastern Region to support businesses in creating places where people want to work and where businesses can bring out the best in their staff to increase engagement and productivity. For more information on how Pure can support your business with unrivalled local recruitment expertise, talent development and employer brand, contact your local office.