Stories
Best Employers gave StrategiQ a great opportunity to assess company culture and employee engagement

StrategiQ Marketing, based in Ipswich, won the Best Employers Eastern Region 2018 Best Digital and Technology Company Award and also achieved Gold Accreditation. Read how Best Employers has helped this young company to set in place an ongoing journey of continuous assessment and positive changes to maintain and evolve company culture and employee engagement as it continues to grow and expand.
About
Established in 2013, StrategiQ Marketing is a growing integrated marketing, creative, design and web development company based in East Anglia. It is one of the Eastern region's largest digital agencies based on both revenue and staff. Founded upon the core pillars of partnership, scalability, expertise, service and people, the company is dedicated to achieving its motto of 'building brands people want to be part of'.
Why did StrategiQ take part in Best Employers 2018?
Having only been established for five years, Best Employers gave us a great opportunity to assess where we were currently at, and where we could be, with our company culture and employee engagement. Our staff are our key priority and we want our employees to feel that they have a purpose and that they enjoy coming to work each day. Having already expanded from being a team of two to employing more than 30 people, we wanted to set in place an ongoing journey of continuous assessment. This will put us in the best position to identify any proactive changes needed as our business continues to grow.
How did Best Employers help StrategiQ with employee engagement and frame its strategies for the future?
While our Best Employers report showed mostly good results in all areas, our leadership team still spotted opportunities to make positive changes, particularly around learning and development and employee mental health and wellbeing.
Our team's personal and professional development has always been important to us, with employees actively encouraged to set their own goals and allocated an annual training budget. The survey findings inspired us to take this further and to evolve our personal development plans to become coaching documents. New sections have been added to help our team feel more emotionally connected to their learning and development and more empowered to go the extra mile for themselves, for StrategiQ and for our clients. Alongside new quarterly coaching sessions and monthly informal catch-ups, these help us to ensure our team is successful and receiving all the support they need to be not only good at what they do but passionate about it.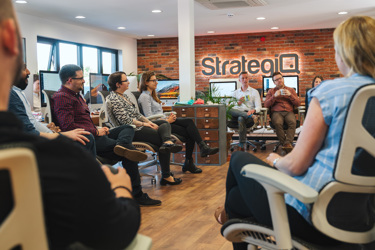 The coaching documents also link into new employee wellbeing initiatives we have put in place. The documents include feedback questions and a 'wellbeing mood matrix' which helps us to gauge how people are feeling emotionally, so we can support them to make any positive changes to their mood, motivation and stress levels if needed. Each employee has also been paired up with another member of the team to be a 'stress buddy', so everyone has someone to support them when needed. Most importantly, we have engaged Sue Firth, a published author and psychologist. Following a group session at our quarterly strategy day, Sue now delivers one-to-one sessions with employees who would benefit from her help. To also support our team's physical wellbeing we have introduced free membership to the gym next door to our office. This gym is open before, during and after work, making it easier for employees to integrate exercise into their routine.
Having won the Best Digital and Technology Company award, and achieved Gold Best Employer accreditation, our aim is to attain Platinum accreditation at Best Employers Eastern Region 2020. The findings and tailored advice from our 2018 survey has given us the tools and ideas to help achieve this. To support our plans, both now and in the future, we have created an employee engagement team. Two staff members, who actively volunteered for the role, now attend leadership meetings to act as a voice for other employees and to help us continue shaping and evolving our employee engagement strategies.
What were the benefits of taking part?
Best Employers provided us with the insights we needed to understand where we could make positive changes as we continued to grow and expand. It also gave us the chance to compare our company against other organisations, helping us to understand where we were currently at and where we would like to be.  
Through Best Employers, we also became aware of other networks, support services and initiatives. As we continue to grow and open additional offices, we recognised a need to build our management and leadership capacity. As part of this, we have launched a leadership programme with Pure to upskill our senior team to become confident, knowledgeable individuals who are equipped to lead the team effectively. Our founders, Andy and Sarah Smith, have also joined Vistage and a women's leadership programme respectively.
What the judges said…
StrategiQ clearly takes the development of its people seriously and has a continued focus on personal development. This focus on learning and development is at the heart of the company's success which is enabling significant, successful growth.
It recognises team members who go 'above and beyond' in a variety of ways including its monthly Most Valued Player award, in which fellow team members can nominate colleagues they feel have exhibited exceptional performance for a reward. The organisation's vision, values and purpose are reinforced through quarterly strategy days in which employees are updated on performance and business objectives and everyone in the company, regardless of position, is able to contribute thoughts and ideas, motivating them to feel part of something bigger than just a 'day job'.
What the client said…
We were absolutely thrilled to receive the Best Employers award. It's really important for us to ensure our team are working in an environment where they can grow and are part of a culture where they can develop personally and professionally. We have worked hard to 'build a brand people want to be part of' and this award recognises and reinforces our efforts.
How has Best Employers made a difference to StrategiQ?
Our employees are instrumental in our ability to deliver consistent results for our clients, which in turns drives our business forward. At our company strategy day, we set out a goal to achieve a target turnover. Not only did we achieve this, we have almost more than doubled our turnover in 2018/19. This perfectly outlines our team's dedication to our company and its growth, and in turn our commitment to developing well trained, knowledgeable and satisfied industry leaders who make excellent client delivery possible.
We plan to continue growing our team significantly over the next few years and the Best Employers award will help with our recruitment process and staff retention. It is external recognition of the well thought out processes we have and are continuing to put in place, which are fostering a great place to work and helping us to attract and retain some of the region's most talented design, development and marketing professionals.
About Pure
As a professional recruitment consultancy, Pure supports businesses in the Eastern region with talent recruitment, retention and succession planning. It recognises the significant impact employee engagement and workplace culture has on an organisation's employer brand and its ability to attract and retain the high-calibre employees needed to achieve business growth and success. For more information on how Pure can support your business with unrivalled local recruitment expertise, talent development and employer brand, contact your local office.
Find out more about Best Employers Eastern Region 2020 here >>