Opinion
How employee demands are reshaping company culture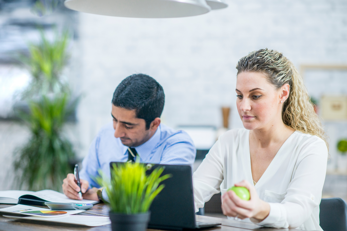 The way many of us do – and view – work has fundamentally changed over the past two years. Employees expect more freedom and flexibility around how and where they do their jobs, and a focus on their wellbeing. So companies can't expect to do things the same way as before and still attract high-calibre people. But where should you make changes?
Well, having a more 'human-focused' company culture is a great place to start.
A global 2021 LinkedIn survey of what matters to job seekers found that number one was a good work-life balance. So it's clear that the days when a fat pay packet and some nice perks were enough to attract the best employees are long gone. People want to be seen as unique human beings with needs – not as 'resources'. That means companies need to rethink their culture to meet these expectations.
What's company culture?
Put simply, company culture refers to the behaviour and attitude of a company and its people. It includes an organisation's mission, ethics, values and goals, leadership style and work environment. It can be something that's come about organically after years of decisions leading in a certain direction or been deliberately cultivated. Think of it as the 'soul' or 'heart' of a business.
What makes a great company culture?
Generally, the most successful company cultures urge their people to think about how to do business for the better. They give each employee a voice and encourage healthy attitudes and behaviours.
There are two main areas that companies looking to improve culture can target: flexibility and wellbeing.
Flexibility
The pandemic forced many companies to quickly change home and flexible working policies. Now things are returning to normal, lots are making these permanent. Because they've realised that not only can people be trusted to work away from the office – for many, it actually improves productivity. So there's no excuse not to embrace flexible working. But you must create a level playing field for all employees, wherever they're based.
Make sure managers don't overlook homeworkers for promotions or projects. And if someone can't work from home because they have to be on site, think about different working arrangements, like four-day weeks or staggered shifts. These give workers more choice and control over their work, which can only be a good thing.
Here are some other ways you can make your culture more flexible.
Encourage relationships with virtual and real-life events. At Pure we take a day every quarter for our teams to get together away from the office. It helps build a sense of belonging, and increases collaboration and communication – all essential parts of a great company culture.
Make sure your managers walk the walk. If they're not doing it already, encourage senior leadership to work healthy hours and take breaks, and to develop a regular pattern for home and office working. This will normalise it within your culture and make sure no one ever feels guilty about working away from the office.
Focus on results, not hours. Don't reward people for working long hours if they aren't improving results or meeting goals. Measure the outcomes, not the activity.
Keep meetings to a minimum. Regular real-life or virtual face-to-faces are an important way to build employee engagement. But you don't always need to meet. Could you use cloud-based technology to collaborate virtually, for example?
Flexibility in action
Saffron Housing Trust, a not-for-profit association providing homes and services to people in Norfolk and Suffolk, has really embraced new attitudes to office space and working patterns. While this started as a response to the COVID-19 pandemic, it's continued as things return to normality. And it's been a real boost for employee engagement and wellbeing. You can read more on the Best Employers Eastern Region website.
Wellbeing
Companies everywhere are realising that happy employees make for a happy culture – so you need to show you care. According to LinkedIn's 2022 global talent trends report, 'The reinvention of company culture', if employees feel cared for at work, they're 3.2 times more likely to be happy at work, and 3.7 times more likely to recommend working for a company. Generation Z employees are particularly passionate about companies with cultures built on good mental health and wellness.
Here are a few ideas to show your employees you care about their quality of life.
Encourage time off. Make sure people are working sensible hours, and think about letting them take time off during the day to deal with important personal matters. Some companies have taken this to the extreme with four-day weeks or shutting down for a day now and again to let employees take time to focus on their own wellbeing.
Make good mental health part of your culture. Train leaders and managers on how to spot signs of mental distress, and to support their people emotionally. This can help stop employees from burning out, and also create a culture of belonging and caring.
Improve your employee assistance programme. Look at ways to make mental health and wellbeing services more accessible by adding them to your employee assistance programme.
Wellbeing in action
At Pure we have mental health first-aiders who are the first point of contact for anyone struggling with their emotional wellbeing. Through Vitality Health Insurance we've also given our people access to webinars and workshops on wellbeing topics.
The future is flexible
Companies willing to renew and rethink their cultures in favour of their employees are going to have the edge when it comes to recruiting and keeping the best talent. So sharing information and promoting what makes your culture special could really make you stand out in a crowded marketplace.
Want to find out what your employees really think?
Taking part in our Best Employers Eastern Region survey can show you exactly how engaged your employees really are. Our consultants are also experts on different culture strategies – get in touch to find out how we can help.